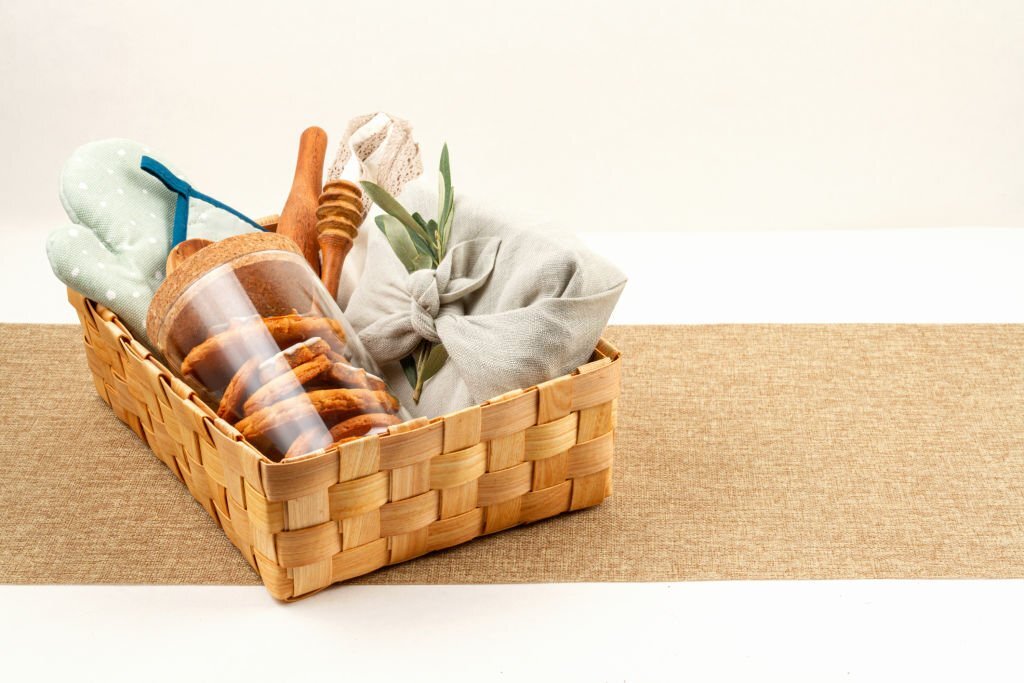 Easter Basket Ideas for College Students
Welcome to our little corner of the internet! Are you seeking unique Easter basket ideas for college students? We know it can be tough to find just the right treats and surprises that will bring a bit of home to their dorm rooms. That's where we come in!
At Amish Baskets, we bring you the charm of Amish craftsmanship straight from the heart of Amish country. Our quality products aren't only practical and long-lasting, but they also carry a rich history and a touch of timeless tradition. From mouthwatering traditional Amish pastries to handcrafted stationery and intricate puzzles, we have everything you need to curate an unforgettable Easter basket.
Stick around as we dive into ten thoughtful, Amish-inspired gift ideas that'll make you the favorite parent on the block. Let's start this journey of turning simple gifts into joyous memories, shall we?
What this article covers:
Top 10 Easter Basket Ideas for College Students
Whether you're seeking healthy Easter basket ideas, items for older kids, or simply trying to think outside the candy box, we have you covered. Here are ten Amish-inspired, unique Easter basket ideas perfect for your college student.
1. Amish-Crafted Snack Packs
When it comes to healthy snack options, our Amish-crafted snack packs are a true delight. Filled to the brim with natural goodies such as dried fruits, granola, and our special Amish-made peach jam, they offer a nutritious and delicious treat that your college student will love. Bursting with farm-fresh flavor, this wholesome snack pack is the perfect way to energize their study sessions.
2. Basket Purses
One of the essential Easter basket ideas for older kids heading to college or already there includes stationery. Stack it in one of our authentic Amish-crafted woven basket handbags to add a personal touch.
3. Bathroom Wicker Storage Baskets
Help your college student keep their bathroom tidy with our bathroom wicker storage baskets. These baskets, hand-woven by our skilled Amish artisans, offer practical storage solutions while adding a touch of rustic charm to their dorm room. They're spacious enough for all their bathroom essentials and sturdy enough to withstand the hustle and bustle of college life.
4. Hand-woven Laundry Baskets
Think practical with our hand-woven wicker laundry baskets, a superb Easter basket idea if you're usually a little too tempted by old-fashioned Amish candy. These durable, reusable baskets aren't only functional but also add a rustic charm to their space.
5. Amish-made Candles
Our range of Amish country candles comes in various relaxing scents, perfect for calming study nights or simply to make their room smell divine.
6. Handcrafted Wooden Desk Organizers
Help them keep their study area tidy with these cute and functional rustic hanging mail organizers - a practical Easter basket idea for teenage girls and boys alike.
7. Heart-Shaped Basket
These charming heart-shaped baskets are hand-woven with care, embodying the warmth of Amish craftsmanship. They're perfect for storing small items like jewelry, stationery, or makeup, making them a lovely and functional Easter gift for your college student.
8. Traditional Amish Pastries
What's Easter without some sweet treats? Our traditional Amish pastries are made from scratch, offering a taste of home. A perfect balance for our healthy Easter basket ideas!
9. Amish Puzzle Games
Break the monotony of college life with some fun Amish puzzle games. It's an excellent stress-reliever and a wonderful way to spend downtime.
10. Toilet Paper Storage Baskets
Practicality meets style with our Amish hand-woven toilet paper storage baskets. They're perfect reusable Easter basket ideas for keeping their bathroom organized and adding a touch of traditional Amish craftsmanship to their daily life. Not only do these baskets provide a handy storage solution, but they also make an unexpected, quirky Easter gift that is sure to bring a smile to their face!
Whether your college student is a budding eco-warrior, a home comfort lover, or a stationery enthusiast, our Amish basket ideas offer something for everyone. Enjoy crafting your special Easter gift!
Crafting the Perfect Easter Basket
Once you've selected your Amish-crafted goodies, the next step is to assemble the perfect Easter basket. This can be as much fun as picking out the items! Here's how to craft an Easter basket that's not just a container, but a gift in itself.
Selection of the Right Basket
First things first, you need to pick the right basket. While a traditional wicker basket is always a classic choice, why not consider a themed one for a bit of extra fun? From beach-themed Easter basket ideas to special Easter basket ideas for boys, like a basket shaped like a sports ball, the options are endless. At AmishBaskets.com, we offer a wide variety of baskets to cater to all your creative ideas. And for those looking to make a big impact, our range of huge Easter baskets will do just the trick!
Arranging the Items
Once you've picked the perfect basket, it's time to fill it up. Start by adding the larger items first, like the bathroom wicker storage baskets or the toilet paper storage baskets. Then add medium-sized items like the heart-shaped basket or Amish-crafted snack packs. Finally, add the smallest items on top, such as our delightful Amish-made peach jam.
Adding a Personal Touch
Lastly, don't forget to add a personal touch. You could include a hand-written note or a favorite family photo. You could even add some colorful Easter grass or ribbons to make it extra festive. Remember, the goal is to create an Easter basket that's not just filled with gifts, but also filled with love and thoughtfulness.
By following these steps, you're sure to create an Easter basket that's as special and unique as your college student. Happy crafting!
Why Choose Amish Baskets
You might be wondering, out of all the available options, why choose Amish Baskets for your Easter gift-giving needs? The answer is simple and comes down to three main reasons: quality, authenticity, and our wide variety of offerings.
A. Quality and Durability of Amish Goods
Amish craftsmanship is renowned worldwide for its quality and durability. When you choose one of our products, like the sturdy brown corner laundry basket, you're investing in an item that's built to last.
B. Authentic Amish Craftsmanship
All of our goods are hand-crafted by skilled Amish artisans, carrying on a tradition of craftsmanship that has spanned generations. Each piece, like the quaint Amish napkin holder, tells a story of heritage and hard work. When you buy from us, you're supporting authentic Amish craftsmanship and a way of life focused on simplicity and integrity.
C. Wide Variety of Products
At Amish Baskets, we offer a wide range of products that are perfect for all your Easter basket needs. Looking for practical and charming storage solutions? We've got it, from the convenient wicker waste baskets to larger items like our bathroom storage baskets. Need something smaller and cute like our heart-shaped basket? We've got you covered. The variety and versatility of our range make it easy to find just the right items for your college student's Easter basket.
When you choose Amish Baskets, you're investing in a piece of Amish heritage and craftsmanship. And we think that's a pretty special thing to include in your Easter celebration this year!
Conclusion
And there you have it! We've journeyed through the charming world of Amish craftsmanship together, exploring unique, practical, and heartwarming Easter basket ideas for college students. From bathroom wicker storage baskets to the delightful Amish napkin holder, the brown corner laundry basket, and even our quirky toilet paper storage baskets, we've seen that the perfect Easter gift is just a click away.
As you craft your special Easter basket, remember that each piece from Amish Baskets carries a rich history and tradition, adding a touch of heritage to your gift.
So, why wait? Start crafting your Easter baskets today with Amish Baskets and embrace the joy of giving this Easter season. After all, nothing compares to the joy in your college student's eyes when they receive a thoughtfully curated, Amish-inspired Easter basket from you.
Thank you for being a part of our Amish Baskets community. We're here to help you create memorable moments, one hand-crafted item at a time. Happy Easter, everyone!
Did You Find Our Blog Helpful? Then Consider Checking: