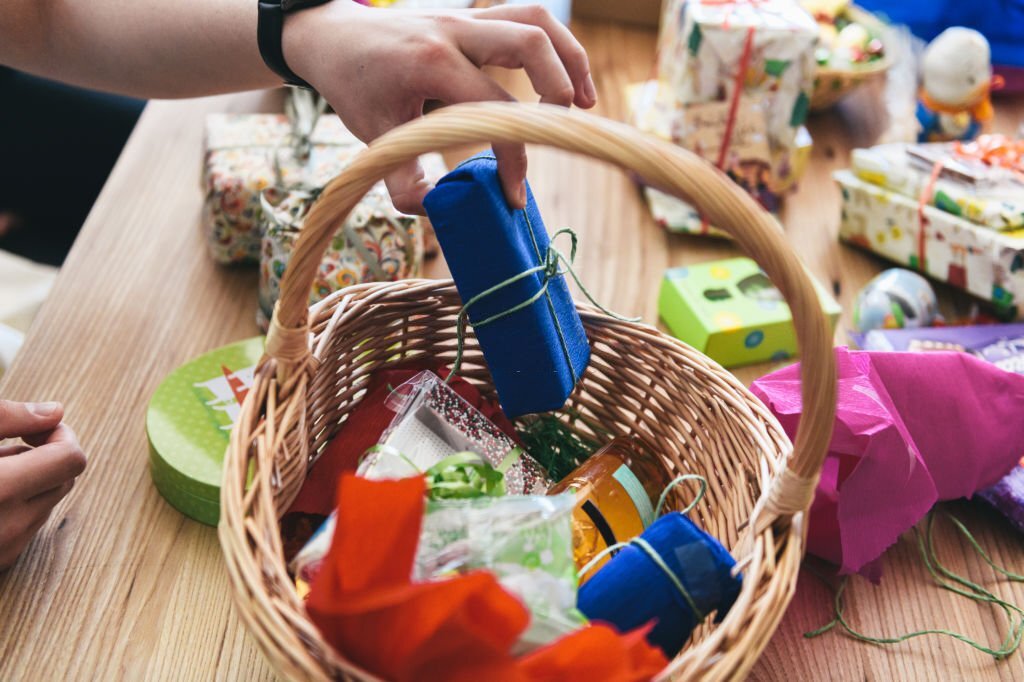 Easter Basket Ideas for Teen Girls
If you're on the hunt for Easter basket ideas for teen girls, look no further. Our unique blend of tradition and trend offers a fresh perspective that your teenagers are sure to love. 
Welcome to Amish Baskets, where we weave together the age-old wisdom of Amish craftsmanship with the youthful spirit of today's teenagers. We understand the delicate balance needed to create gifts that are both beautiful and meaningful. Our Easter basket ideas for teen girls are a testament to this.
Our Amish roots run deep, and our crafts bear the mark of a rich heritage that values simplicity, utility, and timelessness - qualities that surprisingly resonate with today's teens. But how does a culture so distinct in its values create crafts that captivate modern teenagers? That's the magic we aim to uncover in this article.
So, whether you're a seasoned Easter basket maker or just starting out, we believe our ideas will offer you a fresh perspective. Let's dive into the wonderful world of Amish crafts and discover the joy of creating a unique Amish-touched Easter basket for your teenage girl. 
What this article covers:
Understanding the Amish Touch
As we delve into the heart of Amish culture, we uncover a treasure trove of ideas that can add a unique touch to any gift-giving occasion. Whether we're looking for Easter basket ideas for little girls, crafting keepsakes for adult children, or even buying a giant Easter basket for a community event, the Amish touch can truly make a difference.
The essence of the Amish touch lies in its inherent simplicity, understated elegance, and deep respect for natural materials. Even if you're seeking healthy Easter basket ideas, you'll find that Amish crafts offer a wholesome alternative to the common plastic-filled baskets. Our baskets, hand-woven with natural fibers, offer not just a healthier choice but also a nod to environmental responsibility that aligns with today's more conscientious gift-giving.
For those who appreciate religious Easter basket ideas, Amish crafts strike a perfect balance. While Amish crafts themselves don't usually bear overt religious symbols, their creation is deeply rooted in a life of faith, integrity, and community spirit. This reflection of a devout lifestyle resonates beautifully with the religious sentiments often associated with Easter.
Meanwhile, for those creating adult children's Easter basket ideas, the Amish touch can lend a sophisticated edge. Our crafts go beyond mere aesthetics, often serving functional purposes too, making them suitable for adults.
Our understanding of the Amish touch isn't limited to its physical representation in our crafts; it's also about embracing a lifestyle of simplicity, hard work, and respect for the community and the environment. It's these values that we aim to impart with every Amish-inspired Easter basket, regardless of whether it's designed for little girls, adult children, or any beloved recipient in your life.
In the coming sections, we'll dive deeper into how you can incorporate this remarkable Amish touch into your own Easter baskets. Let's explore some handpicked, teen-friendly Easter basket ideas from the heart of Amish country!
Top Amish Easter Basket Ideas for Teen Girls
When it comes to Easter baskets, creativity is key. And our top Amish Easter basket ideas for teen girls are all about merging tradition with trend, crafting something that feels both familiar and fresh.
Amish-made Jewelry
Our first suggestion is Amish-made jewelry: unique, handcrafted pieces that mirror the simplistic yet stunning aesthetic of Amish craftsmanship. The beauty lies in the intricacy of the work and the story each piece tells.
Amish Quilted Accessories
Quilting is a cherished tradition among the Amish, and their vibrant, intricate designs make for stunning Easter gifts. Consider a quilted purse or a colorful quilted phone cover for a teen's Easter basket.
Amish Wooden Puzzles
Perfect for the puzzle lover, our Amish wooden puzzles combine fun and functionality. Crafted with attention to detail, these puzzles can serve as both an intriguing pastime and a decorative piece.
Amish Organic Beauty Products
In our quest for reusable Easter basket ideas, we can't forget Amish organic beauty products. Handmade soaps, lip balms, and lotions made from natural ingredients not only make fantastic Easter gifts but also promote a sustainable lifestyle.
Amish Heart-shaped Baskets
Nothing spells love like our Amish heart-shaped baskets. These can serve as the Easter basket itself or as a lovely addition. They're perfect for filling with smaller items like jewelry or beauty products.
Amish Crafts for College-bound Teens
For those brainstorming college Easter basket ideas, why not consider useful Amish crafts? Handmade desk organizers, bookmarks, or even a well-crafted laundry basket can make thoughtful and useful gifts.
Each of these ideas reflects the spirit of Amish craftsmanship - simple, functional, and made with love. We believe these Amish Easter basket ideas for teen girls offer a balance of fun, practicality, and beauty that any teenager would appreciate. Let's move on to some tips for choosing the right Amish crafts for your Easter basket!
Tips for Choosing the Right Amish Crafts for Your Easter Basket
Choosing the right Amish crafts for your Easter basket is an art in itself, and a delightful one at that! Here are some helpful tips to help you make the perfect selection:
Understand the Recipient's Preferences
Start with the teenager in mind. Consider her interests, hobbies, and tastes. For instance, if she's a beauty enthusiast, Amish organic beauty products could be an excellent choice. If she's more into unique collectibles, perhaps an Amish wooden puzzle would make her day.
Balance Aesthetics and Practicality
The beauty of Amish crafts lies in their combination of form and function. While a stunning quilted accessory may catch the eye, its practical use makes it a gift that keeps on giving. Aim for a balance between items that are visually pleasing and those that offer utility.
Consider the Easter Basket Theme
If you're working with a particular theme for your Easter basket, choose Amish crafts that align with it. For example, if you're creating a "self-care" themed basket, Amish-made soaps and lotions would be ideal.
Add Personal Touches
The magic of gifting comes from the personal touches that make the recipient feel special. Consider adding a handwritten note or even selecting an Amish craft in the recipient's favorite color.
Choose Quality Over Quantity
When selecting Amish crafts, remember that each piece is handcrafted with care and precision. It's not about filling the basket to the brim, but about selecting a few quality items that resonate with Amish values and the recipient's tastes.
Remember, creating an Easter basket is a labor of love. Whether it's a heart-shaped basket, a reusable beauty product, or a thoughtful item for a college-bound teen, the joy comes from the process of choosing each piece with care and envisioning the recipient's delight. 
Conclusion
Crafting an Easter basket with an Amish touch offers a unique, meaningful gift that blends tradition and trend. Whether you're selecting for little girls, teens, or even adult children, Amish crafts cater to all with their timeless appeal and practical utility. 
So, let your creativity bloom this Easter with our expertly handcrafted Amish goods. From our experience at Amish Baskets, we believe in the joy of giving and the magic of the Amish touch. Discover this magic yourself as you assemble your special Easter baskets. Happy crafting and joyful giving!
Did You Find Our Blog Helpful? Then Consider Checking: