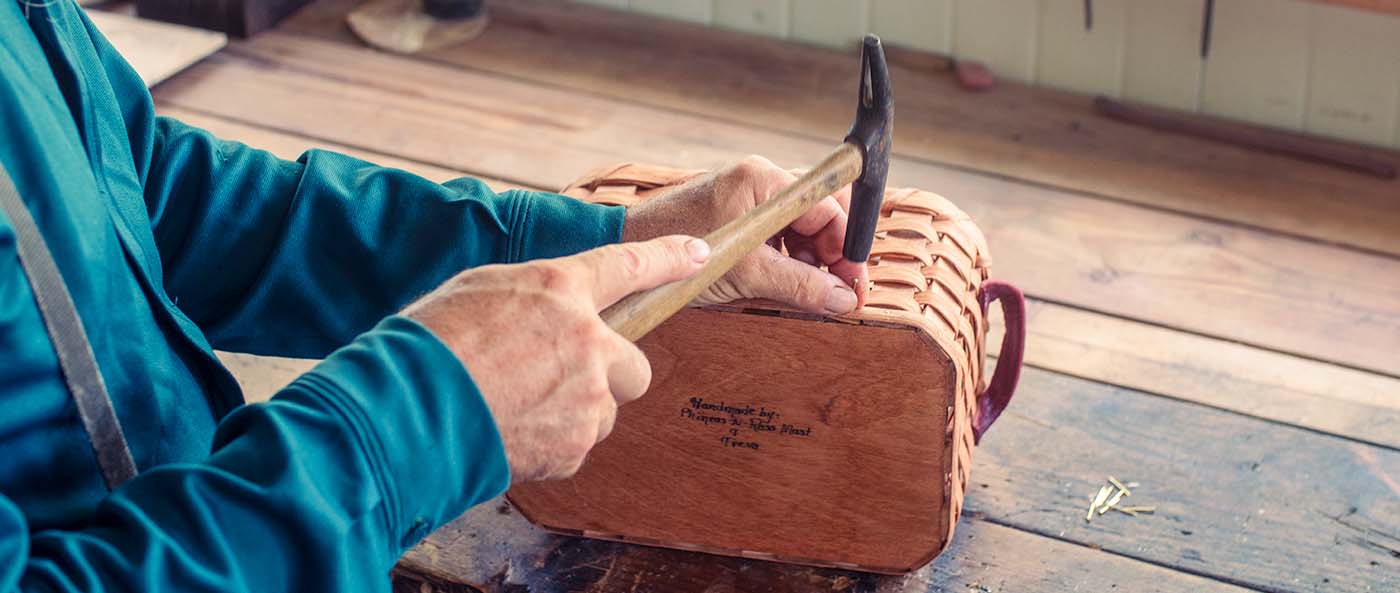 Wicker Baskets Crafted by Old-Order Amish Families
Heirloom quality woven baskets that provide functionality today and will be cherished forever as they are passed down for generations.
Handcrafted in the Midwest & Shipped in 24 Hours!
Wicker Laundry Baskets | Rustic Amish Woven Clothes Hampers
A laundry basket is one of the most useful and versatile items in any home. It helps you keep your clothes organized, tidy, and ready for washing. But not all laundry baskets and hampers are created equal. The Amish are known for crafting the finest, furniture-quality wicker laundry hampers and baskets available anywhere.
Our Amish wicker laundry baskets and hampers are handcrafted by skilled Amish families using natural materials and crafting techniques handed down for generations of their families. Our laundry room baskets are durable, sturdy, and beautiful and come in various shapes and sizes to fit your needs. Whether you need a large hamper for your family, a small laundry basket for your bedroom, or a set of hampers and laundry baskets for different rooms, you can count on the Amish to exceed your basket expectations.
Our wicker laundry room baskets have many advantages over other types of hampers...
Laundry Baskets from Natural Materials
Each wicker basket is woven from natural materials to form a strong and flexible basket. This gives the laundry baskets and hampers a unique texture and appearance that adds charm and warmth to your home. Our handmade Amish wicker laundry baskets and hampers will bring a rustic and natural look to your laundry room and can perfectly accent any room in your home.
Hamper Baskets with Lids Available
Our lidded wicker laundry hampers come with lids that can be easily opened and closed. Choosing one of our hamper baskets with a lid will help you conceal your dirty clothes and keep them out of sight. Lids also protect your clothes from dust, insects, and pets.
Lined Laundry Basket Options Available
Our woven wicker laundry baskets and hampers can be ordered with an optional removable liner made from pre-shrunken all-natural cotton fabric. These liners are soft, washable, and easy to attach and detach for washing. The liners are also a great way to carry your clothes from the basket to your machine for washing.
A One-Of-A-Kind Rustic Look
Our woven wicker laundry baskets have a natural and rustic look that complements any decor style. Whether you have a farmhouse, country, or modern theme, you can find a wicker hamper that matches it.
Made in USA
All of our wicker laundry hampers and baskets are made in the USA by Amish craftsmen who have been practicing their craft for generations. When you buy a wicker hamper from us, you support a community of hardworking and talented people.
If you are looking for a high-quality, attractive, and functional laundry basket or a hamper basket with a lid, look no further than our collection of Amish wicker laundry room baskets.