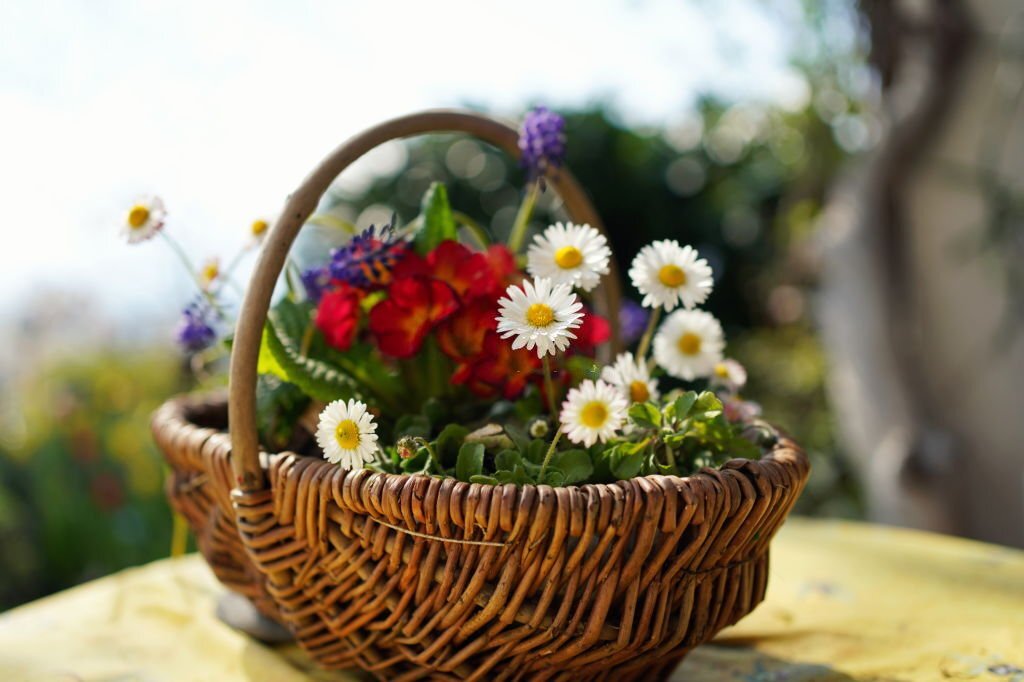 Garden Basket Ideas
Welcome to our world of garden basket ideas, a place where Amish craftsmanship and nature's bounty come together in delightful harmony. Garden baskets are more than just functional tools; they can be the artistic centerpiece of your outdoor haven, adding a dash of culture and style. We, at Amish Baskets, are deeply rooted in the rich traditions of the Amish community, and we bring that authentic experience right to your doorstep through our handcrafted garden baskets.  
Drawing on generations of wisdom and technique, our baskets aren't just a purchase but an investment in heritage, quality, and beauty. Each woven strand holds a story, and every basket becomes a part of your garden's unique narrative. And the best part? We're thrilled to share with you, through this guide, the top Amish-inspired garden basket ideas that can transform your green space into a veritable Eden.
So, sit back, relax, and let us walk you through the beautiful journey of enhancing your garden with our Amish garden baskets. Let's dive right into the world of authentic, quality craftsmanship and explore how these stunning pieces can revolutionize your garden space!
What this article covers:
Brief Overview of Amish Culture
The soothing cadence of nature and handicraft has taken the place of the hectic rhythms of modern life in Amish culture. This deeply rooted culture is home to some of the best sewing baskets and Amish picnic baskets, handcrafted pieces that are a testament to the community's skill and dedication.
Born out of the Anabaptist tradition in the 17th century, the Amish community is today synonymous with simplicity, peace, and respect for the natural world. This cultural ethos resonates strongly in the design and craftsmanship of our beautiful baskets. Each Amish basket is crafted with the same attention to detail and care, whether it's one of our best sewing baskets, used to keep your threads and needles organized, or our Amish picnic baskets, the perfect companion for a sunny day out with family and friends.
The Amish live closely with the land, cultivating a deep respect for nature that is ingrained in their way of life. This reverence is reflected in their handicrafts, with each item thoughtfully designed to harmonize with its environment. When you invest in one of our Amish picnic baskets or the best sewing baskets, you're not just buying an item, but partaking in a lifestyle that values quality, sustainability, and beauty in everyday objects.
That's why we at Amish Baskets are so proud to bring you these quality, handmade items. Let's explore the wonderful world of Amish garden baskets together, and discover how these stunning pieces can breathe life and soul into your outdoor haven!
Top 10 Garden Basket Ideas with an Amish Twist 
Are you ready to explore the top 10 garden basket ideas that can bring a new lease of life to your garden? Here we go!
The Blossoming Bathroom Basket
Ever wondered what to put in bathroom baskets for your garden bathroom? How about some handpicked, fragrant blooms, potpourri, or small potted plants? A woven bathroom basket can add a fresh, natural touch to your outdoor bathroom setup.
The Majestic May Day Basket
The joy of learning how to make a May Day basket lies in the process as much as the outcome. Filling an Amish basket with colorful spring flowers can create a beautiful centerpiece for your May Day celebration or a thoughtful gift for your neighbors.
The Fancy Flower Girl Basket
If you're wondering how to make flower girl baskets for an outdoor wedding, it's not all that different from what to put in a wedding gift basket. A small, delicately woven Amish basket filled with petals can make any flower girl's task a joyful breeze.
The Herb Helper
Want fresh herbs at your fingertips? Try planting them in small garden baskets. Not only are they portable and space-saving, but they also add a rustic charm to your garden.
The Bird Lover's Basket
If you love feathery visitors, turn a sturdy basket into a unique bird feeder or nest. It's a natural, aesthetic way to welcome wildlife into your garden.
The Elegant Edible Arrangement
Plant your favorite edible flowers and herbs in a garden basket. It's an attractive, practical solution for the gardener who loves to cook.
The Tranquil Twilight Basket
Place solar or battery-powered LED lights in a large garden basket to create a charming twilight glow, transforming your garden into a magical nighttime oasis.
The Hardy Hanging Basket
Fill hanging baskets with durable, easy-to-maintain plants for a vertical garden that's both practical and beautiful.
The Serene Succulent Basket
Succulents in a garden basket make for an effortlessly beautiful, low-maintenance display.
The Fruitful Harvest Basket
Plant dwarf varieties of your favorite fruit-bearing plants in large baskets. It's the perfect blend of form and function and a great way to enjoy homegrown produce!
Remember, the beauty of garden basket ideas lies in their versatility and creativity. Our Amish baskets can cater to all your needs with their timeless charm and quality craftsmanship.
How to Choose the Best Garden Basket
Selecting the best garden basket is like picking the perfect accent piece for your green space. It's about merging functionality, aesthetics, and a dash of personal style. We've compiled a few tips to help you choose the best garden basket, whether you're eyeing our charming "corner baskets", whimsical "heart-shaped wicker baskets", or practical "garden harvest basket".
1. Purpose
What will the basket be used for? If you need a storage solution for a tiny nook in your garden, our corner baskets are a fantastic choice. Perhaps you're looking for a sweet, romantic touch to your garden decor? In that case, our heart-shaped wicker baskets could be your answer. If you're an avid gardener who often reaps the fruits (and veggies) of your labor, then a durable garden harvest basket might be just what you need.
2. Size
The size of your basket should align with its purpose. Our large garden harvest basket is perfect for collecting produce, while smaller corner baskets can be ideal for storing garden tools or displaying decorative plants.
3. Material
All our baskets are made with premium, weather-resistant materials, ensuring they stand up to the elements and age gracefully.
4. Design
While the design partly hinges on your personal taste, it also needs to complement your garden. For instance, a heart-shaped wicker basket might be the perfect whimsical touch in a cottage-style garden, while sleek corner baskets could suit a more contemporary outdoor space.
5. Craftsmanship
When you choose one of our Amish baskets, you're not just buying a basket. You're investing in generations of craftsmanship, tradition, and quality. Each basket is meticulously crafted to ensure durability, functionality, and beauty.
Remember, choosing the best garden basket is about finding the right blend of utility and charm to suit your needs and reflect your personal style. 
How to Care for Your Amish Garden Basket
Taking care of your Amish basket is like nurturing a precious piece of heritage. These handcrafted treasures require simple yet mindful attention to stay beautiful and functional for years to come.
Begin by keeping your basket dry; while our baskets are crafted for resilience, prolonged exposure to moisture can affect their durability. If they do get damp, let them air-dry naturally.
Regular dusting is also important. Use a soft brush to clean the nooks and crannies and keep your basket looking fresh.
Avoid placing heavy objects in your basket that might stretch or deform its shape. Remember, the beauty of these handcrafted pieces lies in their delicate strength.
Direct sunlight can also fade the rich colors of your basket over time. Try to place them in shady or indoor areas of your garden.
By following these tips, you can help ensure your Amish basket continues to shine as a centerpiece of your garden space, embodying the timeless elegance of Amish craftsmanship. 
Conclusion
As we conclude our journey through the enchanting world of Amish garden baskets, it's evident that these handcrafted treasures offer so much more than functionality. They invite us into a space of tranquility, simplicity, and the age-old traditions of the Amish community, making your garden not just a green space, but a sanctuary.
We, at Amish Baskets, are thrilled to bring you closer to this unique culture, and we hope that our garden basket ideas inspire you to create a beautiful outdoor haven that speaks to your soul. Because, after all, a garden adorned with Amish baskets isn't just a garden - it's a statement of simplicity, beauty, and timeless quality.
Did You Find Our Blog Helpful? Then Consider Checking: