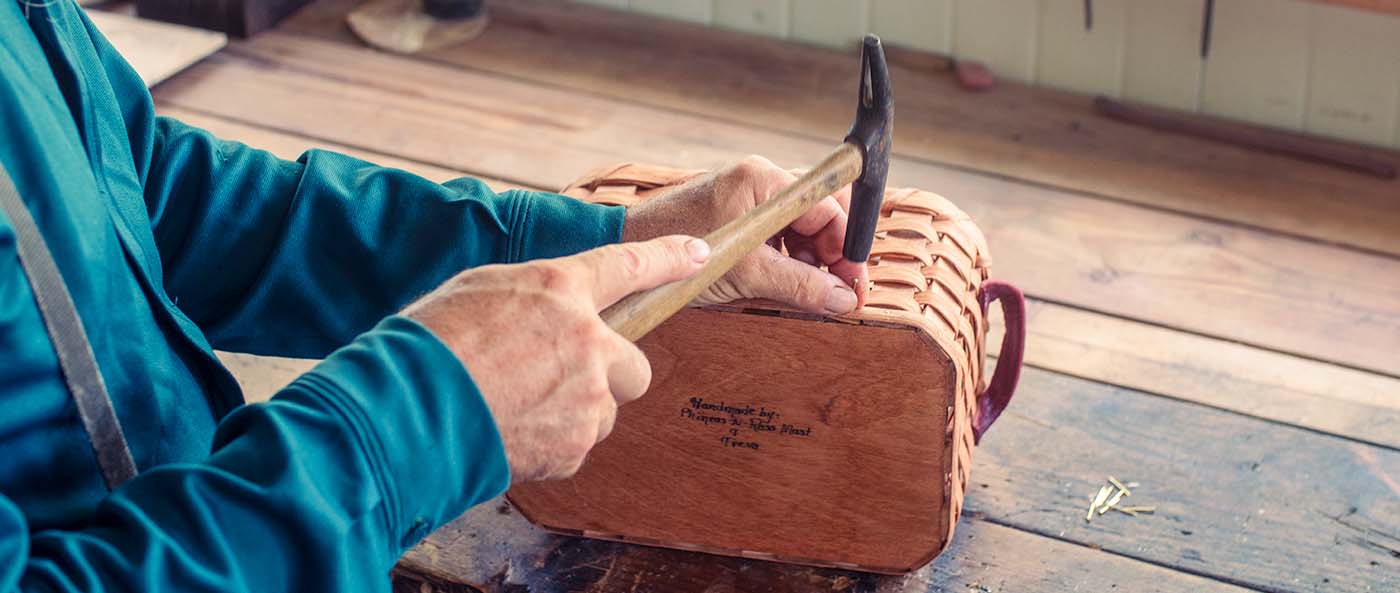 Wicker Baskets Crafted by Old-Order Amish Families
Heirloom quality woven baskets that provide functionality today and will be cherished forever as they are passed down for generations.
Handcrafted in the Midwest & Shipped in 24 Hours!
Basket Planters | Amish Woven Wicker Plant & Flower Pots
The Only Wicker Planter Baskets In The World With Built-In Drainage Trays!*
Proper drainage is essential to keep your plants healthy and happy. Our one-of-a-kind Amish wicker basket planters feature water drainage holes and drip trays that are completely hidden inside the basket. -No more worries about keeping a separate saucer under your planters.

Benefits of using our exclusive wicker plant baskets:

Plant directly in our planter baskets!

Hidden drainage holes allow roots to "breathe".

Proper drainage keeps plants healthy.

Built-in tray protects surfaces from water damage.

No more pooling water under your plant pots!

Safeguard your plants against fungus and root rot!

Deep planting space for healthy root development.

Hand Crafted by Old-Order Amish Families.
With their rich connection to the earth, the Amish know a lot about growing and nurturing healthy plants. Centuries of gardening wisdom have gone into creating these special planters so you can enjoy the advantages of indoor plants without the hassles. The benefits of healthy indoor plants include breathing cleaner and more purified air in your home. Studies also show that having plants in your decor elevates mood levels while reducing stress. Our Amish handwoven wicker plant baskets will soften the look of your rooms while upgrading your home's appeal and overall aesthetics.
Decorator Basket Planters:
Our custom handwoven planter baskets are the perfect way to add an extra layer of texture to any space. Combining living greenery with these warm and rustic wicker baskets will add detail and character to the environment surrounding your houseplant display. The Amish craftsperson who creates each wicker planter uses great skill and patience acquired over a lifetime of dedication to creating stunning decorative accents and functional baskets for homes like yours. Each woven plant basket is crafted in the USA and will be signed by the Amish family who crafts your basket for you.
Durable Inner Plant Liner Included:
The sturdy, molded, waterproof liners in our woven rattan plant baskets feature strategically-placed drainage holes in the bottom to provide your plants with proper drainage and to allow the air circulation needed to keep your plant's soil fresh. A hidden drip tray inside each planter protects your basket and surrounding surfaces from possible water damage.
Optional Wooden Plant Stands Available:
Adding a wooden plant stand to your woven planter basket is the perfect way to create a beautiful living composition in your decor. If you plan to use your basket potted plants at floor level, the optional wooden plant stands can bring a uniquely-stunning look to your display. Each stand is handcrafted in the USA by the same Amish family who creates your woven wicker plant basket.
Multiple Planter Sizes Available:
We have planter baskets to fit all your wicker plant pot needs. From small ferns and plants to large shrubs or fiddle leaf fig plants, you can choose the rattan planter basket best sized to fit your planting and decorating needs. Each planter features full-depth cylinder shapes with plenty of room to encourage healthy and vibrant root systems in your plants.
*Horticulturists agree you should always ensure your plants have somewhere to drain after each watering. Accumulated moisture or standing water can lead to serious health issues for your plants, like root rot. Our one-of-a-kind rattan basket planters, with their built-in drainage and drip tray, give you peace of mind and will eliminate this common planter problem.