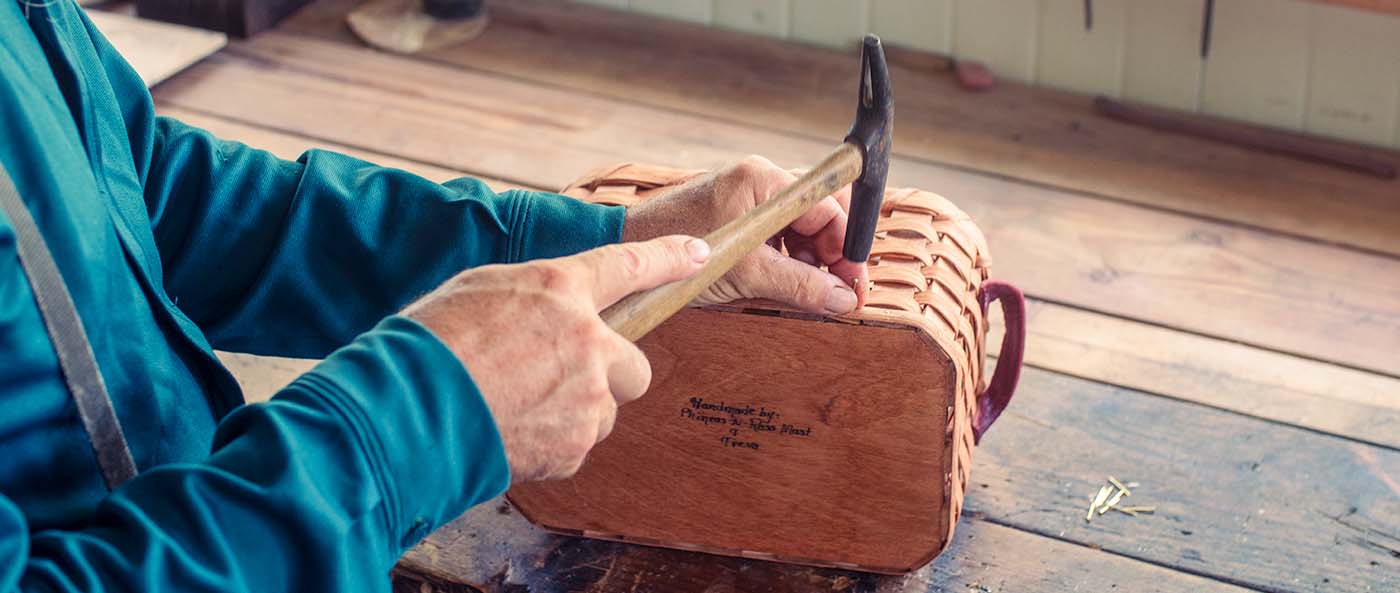 Wicker Baskets Crafted by Old-Order Amish Families
Heirloom quality woven baskets that provide functionality today and will be cherished forever as they are passed down for generations.
Handcrafted in the Midwest & Shipped in 24 Hours!
Best Selling Handmade Baskets | Top Amish Woven Wooden Baskets
Discover the best-selling Amish handmade baskets. The Old-Order Amish families who craft the hand woven baskets shown below have been practicing their basket weaving craft for generations. Any of their designer baskets are sure to deliver joy and convenience for a lifetime and beyond. If you are looking for a woven wood basket, from square woven baskets to soft woven baskets, or even woven tray baskets, these best-of-the-best baskets offer you the perfect choices for your home décor or handmade storage basket needs.

In addition to the best-selling baskets shown below, you may be interested in exploring our best-selling basket categories including...

Amish Bread Baskets
Our Amish woven Bread Basket collection includes several shapes and sizes of handmade baskets to fit any of your bread serving needs in your rustic, country, or primitive kitchen decor.

Amish Picnic Baskets
Find the perfect old-fashioned, vintage, or classic traditional picnic basket for your next picnic adventure in our very popular selection of wicker woven Picnic Basket collection.

Amish Laundry Baskets
Bring enjoyment to your laundry duties with a vintage Amish woven wicker laundry basket. Choose from assorted laundry basket sizes and shapes in our Laundry Basket collection.

Amish Corner Baskets
The need for corner baskets comes in hundreds of shapes and sizes. Now you can perfectly fit any corner by having a beautiful custom corner basket woven to your specification. Choose from our Custom Round Front Corner Basket or a Custom Triangle Shape Corner Basket.

Amish Gift Baskets
We have a large selection of gift-giving ideas in our Christmas Store so you can find the perfect basket gift for any occasion. Looking for an Amish food basket? See all our Amish Gift Baskets.

Amish Sewing Baskets
Keeping your sewing supplies organized has never been more convenient and enjoyable than it will be when you use any one of our very popular vintage Amish wicker Sewing Baskets.

Amish Storage Baskets
No matter what your wicker basket storage needs may be, we can craft you the perfect woven basket for storage to fit your specific space. You can even have your Storage Basket made in your own custom basket size.

Amish Knitting Baskets
If you're looking for the perfect place for yarn storage or for keeping your knitting or crochet project organized, check out our most requested Knitting Baskets to fit both your decor and your knitting needs.

Amish Stair Baskets
Keep your staircase organized and accent your rustic, country, cabin, or primitive decor by adding a one-of-a-kind step basket to your home. Your perfect Stair Basket waits here.

Amish Egg Baskets
From accenting your kitchen decor to gathering eggs from the henhouse, you can choose a beautiful and functional egg basket to fit your needs from our selection of Egg Baskets.

Amish Bike Baskets
Our bicycle baskets are our most innovative basket. Visit our Bike Basket collection to discover our special, quick release, attachment system that turns your bike basket into a tote basket in seconds.

Amish Lazy Susan Baskets
It's hard to beat a good old lazy Susan basket for keeping things handy on your table, counter, dresser, or nightstand. Choose the size that's best for your needs from our Lazy Susan Basket collection.

Amish Harvest Baskets
Find the most durable farmer's market and garden harvesting baskets in our Harvest Basket collection. Choose from several shapes and sizes to suit your gardening and market shopping needs.

Amish Dog Baskets
Our wicker dog bed baskets are the perfect way to give your dog a cozy home to relax in while accenting your home decor in any room. Chose the perfect size to fit your dog in our Dog Basket collection.