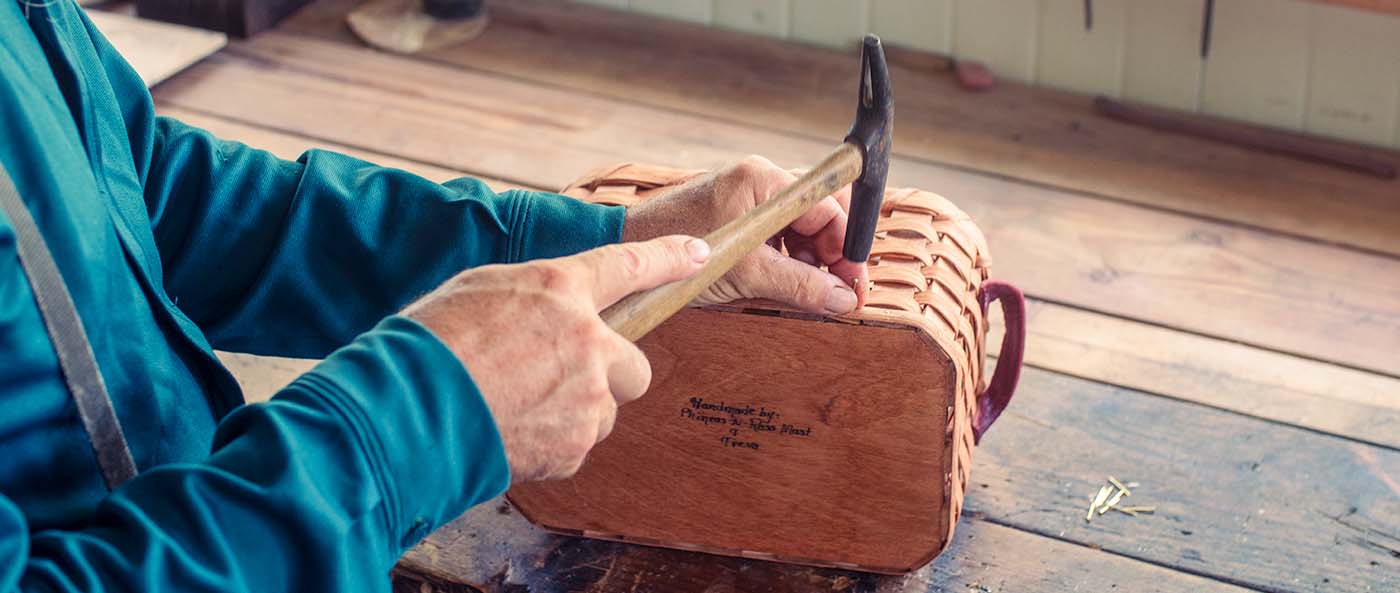 Wicker Baskets Crafted by Old-Order Amish Families
Heirloom quality woven baskets that provide functionality today and will be cherished forever as they are passed down for generations.
Handcrafted in the Midwest & Shipped in 24 Hours!
Picnic Baskets | Amish Woven Wicker Picnic Baskets
Our easy-packing classic wicker picnic baskets will keep all your picnic needs neatly stowed away on your next travel adventure to the park, beach, or backyard. Many of our deluxe picnic baskets feature double-layer packing on an interior shelf tray that is included or available with the picnic hamper. Our vintage-styled baskets for picnicking are crafted by Old Order Amish families who have faithfully crafted baskets of outstanding durability and usability for generations, so you can be assured that your woven wooden picnic hamper basket will last through generations in your family. Each of our American-made, deluxe picnic baskets also features strong carrying handles so you can easily carry the heaviest loads. Our high-quality, old-fashioned, vintage picnic basket totes also make a great gift for nearly any occasion, from special holidays to a most treasured wedding gift. You can even have your Amish picnic basket personalized with a solid brass plate engraved with a family name or custom message. We offer a choice of sizes to fit your family picnic basket needs, from our small picnic baskets to the extra-large, extended family sizes. Our traditional rectangular size makes a great 4-person picnic box, and our large and extra-large woven wooden picnic baskets are suitable for six people or more. The heavy-duty, made-in-the-USA, woven wood construction of our old-fashioned handmade Amish picnic baskets provides the finest, long-lasting alternative to any other old picnic baskets available elsewhere. Each size comes empty with no dishes, but several styles include adding a picnic basket set for 2, 4, or 6 people (options vary depending on the picnic basket size). Our woven wood picnic baskets also have optional, machine-washable cloth liners to keep your lined basket clean and ready to use.
Vintage & Traditional Old Fashioned Picnic Baskets
Heading out to the great outdoors with an old-fashioned picnic packed in one of our vintage picnic baskets is one of the great joys of summer. We have picnic baskets that can hold your blanket, tablecloth, or rug for use on the ground. All our picnic baskets have plenty of room for cups, napkins, cutlery, and any cheese, fruits, sandwiches, drinks, or other snacks you would like to bring along. You could even bring your portable grill and have everything you need to enjoy a meal in the park, at the beach, or on a trip to the backyard with your family or friends. Our Amish handcrafted picnic baskets feature strong carrying handles, making them easy to carry and transport. Choose from our wide assortment of traditional picnic hampers, from our old-fashioned Medium Picnic Basket to our larger Classic Picnic Basket or Wicker Outdoor Tote. If you need lots of space to feed a large group of friends and family, choose a larger picnic basket, like our Large Vintage Picnic Basket. Our wicker picnic baskets make an excellent choice for your general picnicking needs or for packing and storing any other items you may need to stow away and take on your travels.
Small Picnic Baskets
Our
Small Picnic Basket
is perfect to use as an individual picnic basket or for a couple's outing for two. Our small wicker picnic basket is handcrafted from woven wicker by Amish families who have crafted the finest picnic baskets for generations. Our picnic basket for individuals or couples features unsurpassed durability and will stay useful and looking great for a lifetime and longer.
Family Picnic Baskets
We know that many of our customers and their families love to take advantage of the beautiful warm days of summer by packing one of our handwoven wicker picnic baskets with goodies and heading off to the beach, campgrounds, or their favorite secluded place or backyard. We offer several picnic basket styles that can hold all the food and essentials you need on your outing, from blankets and rugs to a thermos or a small cooler. Included in our mid-sized picnic basket selection are our most requested picnic baskets. Our
Traditional Picnic Basket
with tray and our
Classic Outdoor Tote with Lid
both offer a great option for your picnic basket needs. You may also be interested in our
Classic Medium Wicker Picnic Basket
. Our medium picnic baskets are also a great choice to take your favorite baked goods to the next potluck or family get together.
Large Picnic Baskets
We have the most durable, large picnic baskets available if you're looking for a big picnic basket. If you want to carry your ground blanket, rug, or tablecloth inside your basket, choose one of our large picnic baskets. When your picnicking needs include feeding a large crew, you'll enjoy the roomy interiors that can more than hold your cups, napkins, thermos, and cutlery. A popular choice when it comes to a large picnic basket is our
Large Family Sized Picnic Basket
. Our family-sized picnic basket can be ordered with optional picnic sets and you can even choose a picnic set for six to be included in your family picnic basket. We also have our
Country Family Picnic Basket
for carrying a large supply of picnicking needs to your favorite outdoor location. If you are looking for the largest picnic basket option available, check out our Extra-Large, Oversized Picnic Basket, for its extra room over even the largest picnic baskets.
Picnic Basket Sets
Our popular wicker picnic baskets can be ordered with an optional, built-in basket serving set. When you add the picnic set to your basket, your picnic basket will arrive with all the cups, plates, and cutlery utensils you need for serving during your outdoor picnic. Simply bring your portable grill and fill your cooler, and you have the makings of a treasured family memory. You can choose the appropriate size of travel picnic sets to fit your needs by selecting the maximum number of people you wish to serve when ordering your picnic basket. We have picnic sets for 2 or picnic sets for 4 (available in our
Traditional Picnic Basket
, our
Large Picnic Basket
, and our Extra-Large Picnic Basket). If you have a large crew to serve and need a picnic set for 6, you can get an optional family-sized picnic set for up to 6 people on our Large Picnic Basket and our Extra-Large Picnic Basket.
The Best Woven Wicker Picnic Baskets
Our old-fashioned picnic baskets come with the look and feel of a fine antique picnic basket. Besides the fact that each of our baskets is completely woven in the Heartland of the USA, the most important feature that all our empty picnic baskets have is their solid wooden bottoms and hardwood construction. The solid bottoms in our empty picnic baskets give them the durability to become a family heirloom that can last far beyond the lifespan of any normal, off-the-shelf picnic basket. Our picnic baskets also feature heavy carrying handles and strong, solid birch lids, adding even more durability. The quality, hand-selected wooden materials used in our picnic baskets are skillfully brought together by Old-Order Amish families practicing the historical art of crafting the best picnic baskets for generations.
Quality Picnic Baskets with Extra Reinforced Durability
Undoubtedly, one of the most cherished parts of summer is being outdoors and gathering with friends and family. One of the most endearing ways to enjoy a warm summer day is having fun with a relaxing summer picnic. The most memorable picnics will include the best picnic basket. Any of our beautiful and functional picnic baskets will make a wonderful choice to take along your cheese, fruits, sandwiches, drinks, and other snacks and goodies for your travels. Still, one added feature is available in just three of our premium picnic baskets, which sets them even farther apart from any other old picnic baskets. To make a picnic carrier that is nearly indestructible even under the harshest conditions, we have added an extra wooden frame inside our three most popular picnic basket sizes. This extra wooden reinforcement is crafted directly into the baskets to provide you with a picnic basket that will be as useful many years from now as it is today. Our extra-reinforced, premium models of picnic baskets include our
Traditional Picnic Basket
,
Large Family Picnic Basket
, and our Extra-Large Picnic Basket. Because of their added internal framework, these baskets provide the ultimate in strength and durability, we easily consider these three baskets to be the best wicker picnic baskets made in the USA.
Personalized Picnic Baskets
Our personalized picnic baskets make the most heartwarming and thoughtful gifts! Commemorate any special occasion, from weddings to anniversaries to engagement and retirement parties. Giving one of our genuine Amish handcrafted picnic baskets is guaranteed to be the most cherished gift that any lucky person or couple can receive. When you add your own special, personalized message to their picnic basket with our custom basket engraving service, you will instantly turn any of our picnic baskets into a keepsake for a lifetime. We will engrave a name, the couple's name and/or the date and year of a wedding, and/or your personal message on a custom, solid Brass Plate, so your basket will continually hold a special place in your recipient's heart for a lifetime. Adding a personalized engraved Brass Plate to your picnic basket creates a heartfelt heirloom to be passed down in families for years and generations to come. To add a personalized plate to your picnic basket, simply check the "Add A Brass Plate To Your Basket" checkbox on your picnic basket selection and fill in your personalized engraving as you would like it personalized on your picnic basket.