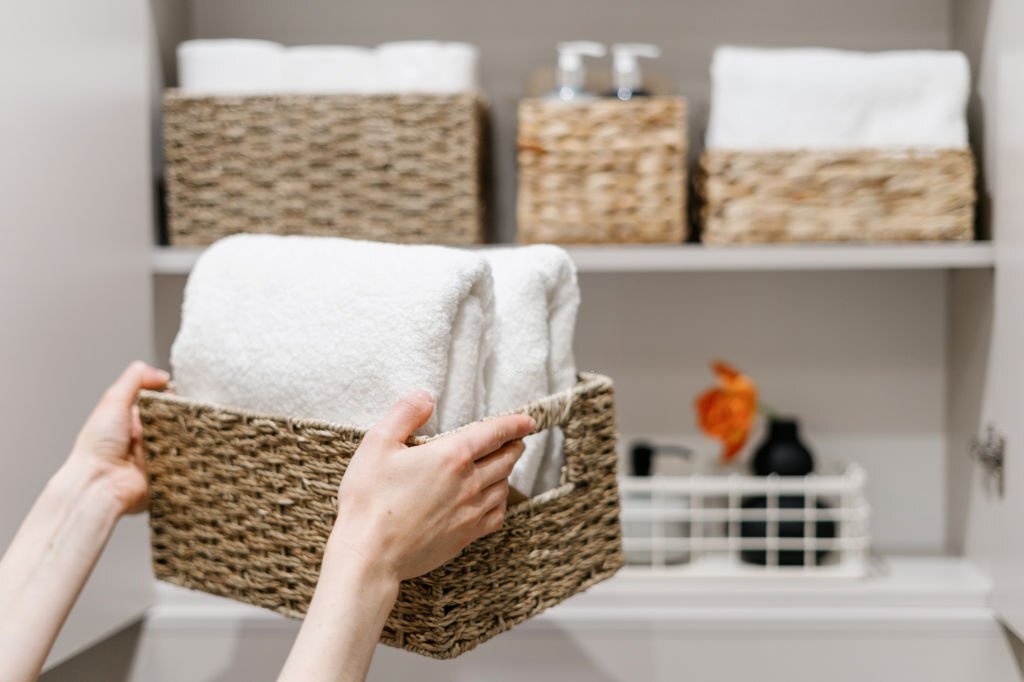 Bathroom Basket Ideas
Welcome to the world of exceptional Amish craftsmanship, where we bring you a remarkable blend of traditional skills and creative innovation. In this article, we're exploring the realm of "bathroom basket ideas," an often overlooked aspect of interior design that has the potential to revolutionize your daily routine. 
Bathrooms, those intimate spaces of retreat and renewal, often bear the brunt of clutter. But what if we told you that there's an elegant solution waiting to transform your restroom into a well-organized sanctuary? Our bathroom basket ideas are not just about enhancing aesthetics; they're about marrying function and style to create spaces that cater to your practical needs while also appealing to your senses. 
From our experience, a well-placed, artfully designed bathroom basket not only serves a practical purpose but also adds to the overall ambiance of your personal space. According to our research, when you infuse your spaces with pieces bearing the signature of Amish craftsmanship, you're becoming part of a timeless tradition.
Stay with us as we dive deeper into the wonderful world of Amish-crafted bathroom baskets, unveiling ideas that might just inspire your next home decor project. Let's unravel the magic together! 
What this article covers: 
The Amish Crafting Tradition
The Amish Crafting Tradition is a vibrant, enduring testament to a way of life that values simplicity, hard work, and practicality. Steeped in a culture that's remained largely unchanged for centuries, the Amish have developed a unique set of skills and techniques, resulting in products that have a charm and quality all their own.
A cornerstone of this tradition lies in the crafting of unique baskets, each with a specific purpose and design in mind. At Amish Baskets, we've built our reputation on these time-honored techniques, creating a range of items that are not just beautiful, but also exceptionally useful.
Take, for instance, our range of corner shelf baskets. Perfectly suited for making the most of those often-underutilized spaces, these baskets are expertly designed to fit snugly into corners. They're ideal for decluttering and organizing anything from bathroom essentials to knick-knacks, while the rich textures and warm colors of Amish craftsmanship bring a rustic charm to any room.
Moving beyond the corners of your home, let's step outside to the orchards with our Amish-crafted fruit harvest baskets. These baskets are a testament to the Amish's connection with nature, designed for the practical purpose of fruit gathering, yet brimming with aesthetic appeal. They're robust, well-balanced, and designed to withstand the rigors of harvesting, but they are equally at home in a kitchen, overflowing with apples, citrus, or the bounty from your neighborhood farmer's market.
But the crafting expertise of the Amish isn't just limited to storage and harvest; it's also woven into our Amish knitting baskets. Crafted with the needs of knitters in mind, these baskets offer ample space for yarns, needles, and patterns, while their sturdy construction protects your knitting supplies. With their timeless appeal and practical design, they're sure to be the perfect companion for your knitting endeavors.
In essence, the Amish crafting tradition is about so much more than just creating items. It involves imbuing each item with a sense of history, culture, and function.  
Top 10 Bathroom Basket Ideas
At Amish Baskets, our range of bathroom baskets offers an incredible array of design and utility options, presenting ten unique ideas to make your personal space both stylish and functional.
Towel Storage Basket
Organizing your towels in one of our Amish-crafted baskets not only keeps your bathroom tidy but also adds a rustic charm that's akin to a beautiful wedding, where even the smallest detail, like wedding basket ideas, becomes a meaningful part of the grander scheme.
Toiletry Organization Basket
Like a well-planned garden, our toiletry organization baskets have a place for everything, embodying the organization and thoughtfulness that go into gardening basket ideas and transforming your bathroom into a haven of orderliness.
Handmade Soap Display Basket
Showcase your exquisite collection of handmade soaps, making them as beautiful to look at as they are to use, much like charming flowergirl basket ideas blossoming with creativity and promise.
Toilet Paper Holder Basket
With practicality at the core of their design, our toilet paper holder baskets ensure you never run out at the wrong moment, offering the same peace of mind as having the best sewing baskets on hand for a quick fix when an unexpected button pops off.
Bath Product Basket
Just like learning how to make a May Day basket to herald the arrival of spring, our bath product baskets can bring joy and color into your bathroom, housing your favorite bath products, and making them easily accessible for a relaxing soak. 
Guest Essentials Basket
Evoke the delight and thoughtfulness of a well-curated wedding basket in your guest bathroom. Stock it with essentials, making your guests' stay comfortable and their needs well taken care of.
Hair Tools and Products Basket
Much like a flowergirl basket brings delight to a child, create a special space for the little ones in your bathroom. A small basket for their bathroom essentials shows them you've considered their needs too.
Vanity Countertop Basket
By incorporating the organized charm of the best sewing baskets, our vanity countertop baskets can neatly store your makeup and beauty tools, ensuring they're always within reach for quick touch-ups.
Cleaning Supplies Basket
As practical as a tutorial on how to make a May Day basket is enchanting, our cleaning supplies baskets hide your essentials in plain sight, making them easily accessible while keeping your bathroom tidy.
Kids' Bath Toys Basket
Much like gardening basket ideas keep your green tools neatly stashed, our kids' bath toy baskets can store their favorite playthings, making bath time a fun and organized experience.
In essence, these top 10 bathroom basket ideas integrate the versatility and quality of Amish craftsmanship into your home, transforming a routine task into an aesthetic experience.
How to Choose the Right Bathroom Basket
Choosing the right bathroom basket is a delightful blend of practicality and personal style. Start by determining the size that fits your space and fulfills your needs; whether you're housing toiletries, towels, or toys, there's an Amish basket for you. 
Style-wise, consider the aesthetic of your bathroom. Is it modern, rustic, or perhaps a little bohemian? Choose a basket that complements this look. 
Functionality is key, so consider the basket's purpose. Perhaps you need something robust for bath toys, or delicate for displaying artisan soaps. 
At Amish Baskets, our range is designed with diversity in mind, crafted to fit your unique needs while embodying the timeless appeal of Amish tradition. So go ahead, browse our collection, and let us guide you to the perfect basket for your bathroom.  
Conclusion
Bathroom baskets are more than just storage solutions; they're an expression of personal style and a nod to timeless Amish craftsmanship.  
At Amish Baskets, we're proud to bring you an array of options that blend functionality with aesthetics. As you explore our collections, remember that the joy is in the details. 
Let our bathroom basket ideas inspire your next decor project. We're here to guide you in crafting your perfect bathroom experience.   
Did You Find Our Blog Helpful? Then Consider Checking: