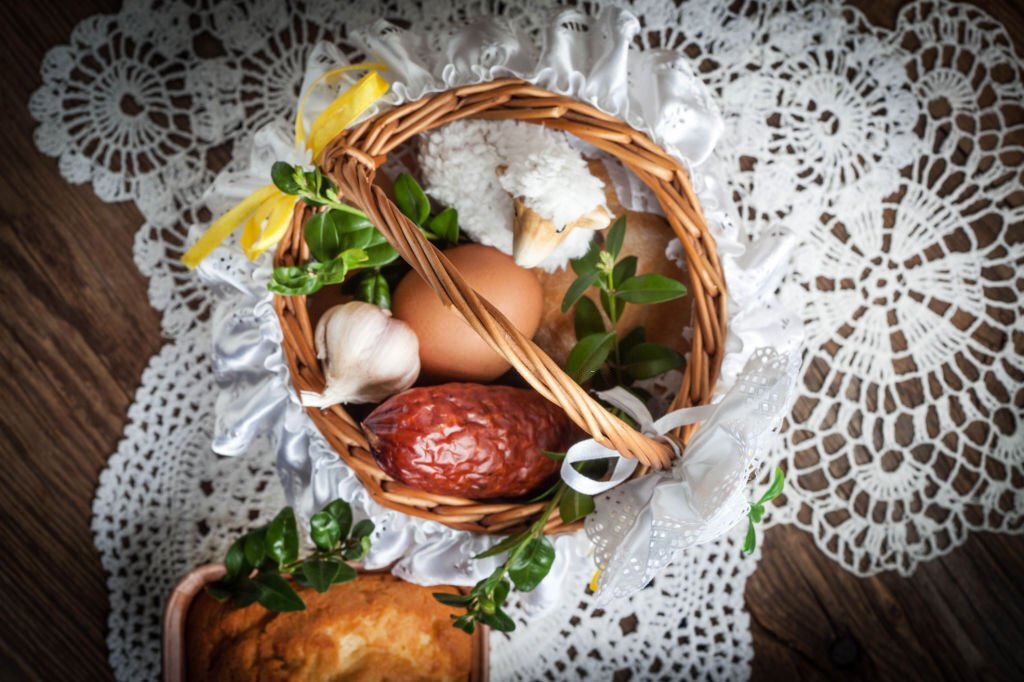 Reusable Easter Basket Ideas
What's an Easter egg hunt without an authentic Easter basket? These reusable Easter basket ideas will delight the hearts of children everywhere. We're pretty sure the adults in your family will love them too. With the right basket, all kinds of decorative options become possible.
Use them for your Easter egg hunt or picnic, or simply to decorate your home. It's up to you how you want to use them. But to give you a bit of inspiration, we've got some tips for you to try when filling your basket. So keep reading and unleash your creativity.
What this article covers:
What Is a Reusable Easter Basket?
A reusable Easter basket is typically a woven basket, like the wicker baskets made by the Amish for us here at Amish Baskets. 
It can be used again and again, and not just for Easter! They also make great gift baskets for any occasion you can think of. 
Of course, an Easter basket doesn't have to be woven or made of wood. But while synthetic Easter baskets are available in many stores, they lack the charming touch of a traditional rattan basket. 
Benefits of Reusable Easter Baskets
There are so many advantages to our reusable wicker Easter baskets! The benefits that stand out, though, are:
Economical - Buying reusable baskets is the top way to practice economic responsibility. Buy it once and treasure it forever. 
Aesthetics - It's the most beautiful way to introduce some farmhouse style into your home. After Easter is over, use your wicker Easter basket to showcase shiny baubles at Christmas.
Sustainable - Handmade by the Amish community, these baskets are what sustainable living is all about. The Amish were living this way before it became a trend.
Eco-Friendly - Amish Easter baskets are produced from natural materials, only. No toxic material will harm your loved ones

or

the environment. 
Durable - Crafted through a wicker weaving process and natural wood, these baskets will last for years. That's high quality and good value rolled into one.
As you can see, there are many benefits to reusable Easter baskets. But once you've purchased a traditional reusable Easter basket, what do you put in it? 
Fun Ideas for a Reusable Easter Basket
Easter is often associated with chocolate eggs and other candied delights. But it doesn't have to be. 
Looking for some Easter basket ideas with no candy? Here are some fun ideas for a reusable Easter basket for kids: no candy required.
Plastic Grass and Animals
Fill your reusable Easter basket with plastic grass and toy chicks, bunnies, or decorative eggs. Whether you need Easter basket ideas for boys or girls, this is a winner. And the more bright and colorful, the better. 
Young children will love playing with these. It's like an Easter surprise and a handy toy basket all in one. 
For Easter Time and Even Bathtime!
Can't find toy chicks for young kids' Easter baskets? Use miniature bathtime rubber ducks instead! 
This is an especially suitable Easter basket idea for toddlers, as they can play with them until bath time and then take their newfound rubber duck along. 
Stuffed Toy Bunnies
Worried about the environmental impact of plastics? No problem! Pop a stuffed bunny or two in your reusable Easter basket. 
It will be even more exciting for children if you throw in a few Easter treats like candied eggs, but even if you don't, they'll love their bunny-filled baskets.
Stumped for infant Easter basket ideas? If you're handy with knitting needles or a crochet hook, you could try your hand at making your own. Easter bunny. They are sure to become treasured heirlooms, much like the basket itself.
Eco-Friendly Easter Basket Fillers
These are some eco-friendly Easter basket filler ideas for the whole family, as well as your neighbors and friends. 
So if you need some healthy Easter basket ideas for adults, take a look at these reusable Easter basket ideas for the whole family. 
Hand-Painted Eggs
Boil some eggs - yes, real eggs - and once they're hard-boiled, remove them from the pot and allow them to cool. Then "paint" them with edible food coloring to resemble Faberge eggs or to depict traditional Easter motifs. 
Once the food coloring has dried, place them inside your reusable Easter basket. Take them along on your church's Easter weekend picnic, or enjoy them at home as lunchtime snacks. 
These hand-painted eggs are also superb beach Easter basket ideas. Take your picnic blanket and sun umbrella along, and enjoy your healthy Easter treats at the seaside. 
Home-Made Cookies
What's more eco-friendly than homemade Easter treats? And no, they don't have to be eggs! 
Home-baked and decorated cookies made to look like Easter eggs or bunnies will do the trick. Kids will love waking up on Easter weekend to the smell of freshly baked cookies and the sight of these treats in their Easter baskets. 
College Kids' Easter Care Packages 
It's usually more difficult to think up Easter basket ideas for older kids, but this is one of the best Easter basket ideas for college students, too. As everyone knows, college students always miss their mother's or grandmother's homemade treats.
Alternative Easter Treats
Another excellent option, and one that your neighbors will love, is to fill the Easter basket with homemade "hot cross buns''. Largely unknown in the US until recently, these traditional English spiced buns look right at home cradled in an authentic Amish Easter basket.
Teen-Friendly Options
One of the best teen girl Easter basket ideas is to decorate the reusable Easter basket's handle with ribbon and a huge bow. But be sure to add a few chocolate eggs. Teenagers still love Easter treats, but a  teen girl may prefer receiving her Easter treats in a heart-shaped basket.
The Spirit of Easter
Of course, Easter is about more than bunnies, chicks, and eggs. It's just as easy to come up with some religious Easter basket ideas. 
Add a printed-out scripture verse or pop in an Easter-themed children's book on the topic of Jesus' ultimate sacrifice. There's no more fitting tribute to an Amish basket, as they are devout Christians themselves.
Conclusion
With these reusable Easter basket ideas, your children (or grandchildren) will enjoy precious moments that lead to lifelong memories. 
Your purchase of an authentic Amish Easter basket is more than just an Easter treat. It's an investment in the future. They're available in a wide range of sizes, styles, and colors. So get yours today and get creative!
Did You Find Our Blog Helpful? Then Consider Checking: