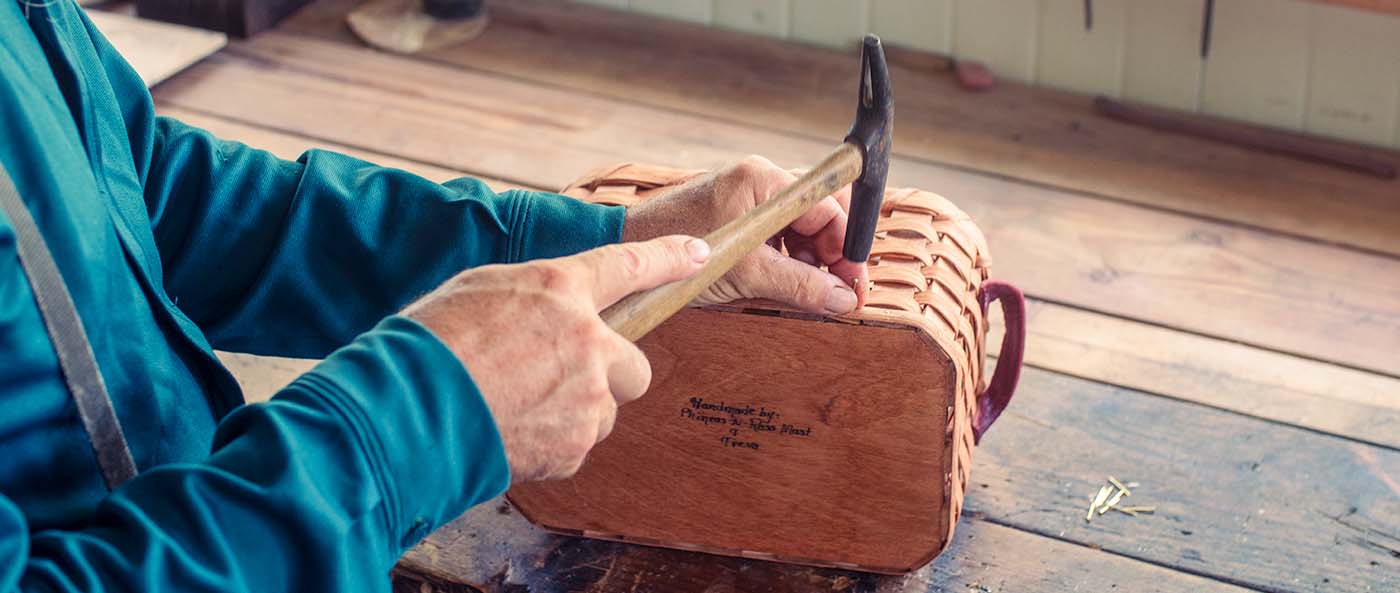 Wicker Baskets Crafted by Old-Order Amish Families
Heirloom quality woven baskets that provide functionality today and will be cherished forever as they are passed down for generations.
Handcrafted in the Midwest & Shipped in 24 Hours!
Storage Baskets By Size | Custom Woven Wicker Decorative Baskets
EXCLUSIVE! Customize your basket in the ideal size. Custom made wicker storage bins and baskets handcrafted just for you are perfect for any room.
Check out these custom storage ideas shared by customers!
Now you can take advantage of our genuine Old Order Amish craftsmanship to have your very own custom wicker baskets woven to your specific sizing needs. Look around your home and we're sure you will find many places that could be updated and given new life with a made to order basket to fill the space.
Many interior design companies across the United States are doing just that and are using our custom-made basket service to create dynamic, breathtaking walls of baskets on shelves and in cubby holes or placing our storage baskets in other hard-to-fit areas in newly designed kitchens, entryways, mudrooms, laundry rooms, and other areas of high-end homes. Our custom-made storage baskets provide an unforgettable look at an affordable price (even the shipping is free). While there is literally an unlimited number of ideas for places to showcase a custom sized wicker basket, one that we hear a lot, is the many customers who are repurposing their old entertainment centers into functional furniture again by having decorative custom baskets made to fit inside the currently unused shelves. Another popular use is ordering custom sized wicker baskets to fit on corner shelves. Many homes have built-in corner shelving units and it is hard to find a properly sized basket to add attractive organizational storage and eliminate the clutter on those corner shelves. Our custom wicker baskets can solve this problem along with nearly any other hard-to-fit storage area needs easily and beautifully. Our made to order baskets can be ordered in a rectangle shape, triangle shape, round front corner shapes, or round shapes to fit your sizing needs. If you would like to have your custom woven basket with a liner, you can always choose to have an optional custom sewn liner added to your wicker basket. Please note that the crafting of custom sized baskets takes approximately two to three weeks from the time you place the order before your made to order baskets will be ready to ship.

Wicker Baskets for Cubbies
You can never have too much storage. Now you can add more storage in any room by adding custom wicker cubby baskets inside any cubbyhole in your home or office no matter what the size. While giving you a great place to stow away items from toys to shoes and everything in between, our custom size storage bins add a perfect rustic and vintage farmhouse look and feel to any room. Whether you need wide, long, or deep wicker baskets, using our custom size wicker basket service is sure to fit your basket sizing needs. For ultimate cubby storage, we recommend our Rectangle Shaped Custom Sized Baskets.

Mudroom Baskets
Are you looking for baskets for mudroom cubbies? One of the more popular uses for our custom sized baskets is in an entryway or mudroom. Baskets for mudroom storage make tucking away shoes, boots, coats, hats, gloves and other outerwear look more appealing than ever. Add a set of handwoven wicker baskets that have been custom designed for your home and we'll guarantee that you will always be in love with your mudroom's look and feel. You will be making unforgettable first impressions on any visitors to your home and eliminating unsightly clutter instantly by adding mudroom basket storage to your entry. See our Rectangle Shaped Custom Sized Baskets to design the perfect handmade wicker baskets for your mudroom.

Wicker Baskets for Corner Shelves
Add a new dimension to the storage space in your home with a custom corner wicker basket shelf. Nearly anywhere in your home can be perfect space for corner wicker storage, from countertops to desktops to curio cabinets or any other corner storage shelf or unit. If you have decorative shelves in any corner of your home, you can now have handwoven wicker corner storage baskets crafted to perfectly fit the specific size of your corner shelves. For your corner basket storage needs, you can choose from our two different corner shapes of baskets for corner shelves. If your corner shelves have a flat front or you need a triangular wicker basket you will want to choose our Triangle Shaped Custom Baskets. If your corner shelves have a round front and are a semi-circle shape, you will want to order our Round Front Corner Shaped Basket.

Wicker Baskets on Shelves
From your pantry to your bedroom, bathroom, or kitchen, a wicker basket shelf can bring beautiful new life to any living space, storage area, or closet. Your vintage, rustic, or farmhouse decor can be perfectly complemented when you fill any shelf with wicker baskets. Your shelves with wicker baskets that have been made to order will fit perfectly and add a unique look to your home decor. You can also add immense amounts of storage space on any shelf while eliminating clutter around your home. When your wicker baskets for storage are just the right width, height, and depth to fit perfectly on your shelves, you will be rewarded with a rich, one-of-a-kind, custom designed look and feel that is as functional as it is beautiful.

Wicker Baskets with Lids
Are you looking for a custom-made storage box? With our custom sized wicker boxes with lids, you can design the perfect storage box for nearly any storage need. Our custom sized wicker baskets are guaranteed to look great in your home or office. If you need wicker storage bins with lids you can add the custom lid option to any of our custom baskets so there is no end to the wicker baskets with lids you can have crafted to fit your specific space and needs. From small wicker baskets with lids to large storage baskets with lids or if you simply need to add a wicker bin with lid somewhere in your decor, we have the exclusive ability to deliver made-to-order baskets with lids directly to your home. Simply choose the custom wicker basket shape you need (Custom Size Rectangle Baskets, Custom Size Triangle Baskets, Custom Size Corner Baskets, or Custom Round Wicker Baskets) and then specify your request custom basket by size have a lid added and your custom wicker basket will arrive in a few short weeks.