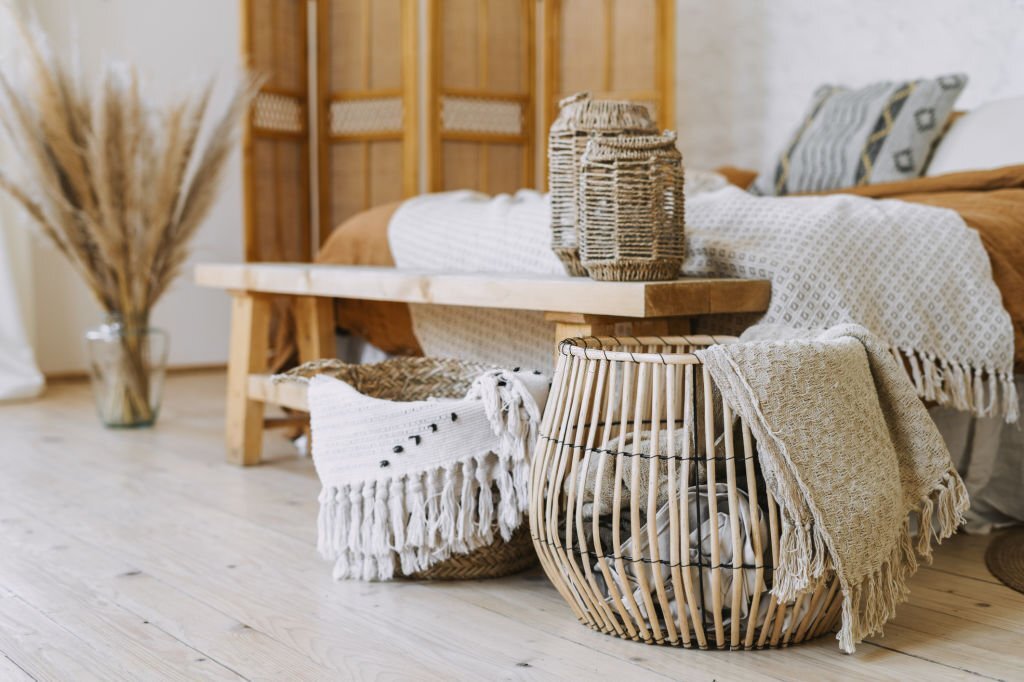 Decorative Basket Filler Ideas
Natural wicker baskets have always been in style, and they complement all types of decor themes, from quaint farmhouses to beach house chic. And with these decorative basket filler ideas, your home will always be stylish, too. You just need some inspiration for how to use them. 
We're here to help with this guide to decorative baskets, including tips for getting the most practical use out of them. So if you want to know the quickest and easiest way to add some country cottage charm to your home, the answer is simple. Add a couple of baskets!
What this article covers: 
What Is a Decorative Basket?
A decorative basket is a container that holds items ranging from everyday necessities to those little extras that seem to have no designated home. 
Storage containers may be useful, but they are often lacking in aesthetics. This is why decorative baskets are so popular. They're practical and visually appealing.
Benefits of Using Decorative Baskets
There are several benefits to using decorative baskets in the home.
Storage vessels

Stylish centerpieces

Eco-friendly alternatives to plastic containers

Pet-and child-friendly
Types of Decorative Baskets
Are there different types of decorative baskets? There sure are! While similarities are evident between them, there are decorative baskets for all purposes and occasions.
Wicker Basket
The humble wicker basket has made a huge comeback in recent years, and it's not hard to see why. Traditional wicker baskets are often handwoven, eco-friendly, and sustainably produced. These are the types of decorative baskets made by the Amish community for us here at Amish Baskets.
However, don't fall for the wicker basket advertisements on other websites; many of them aren't at all natural. 
Many consumers are unaware that the word wicker refers to a weaving style and not to the material the basket is made of. Our wicker baskets are made of rattan wood and are therefore authentic wicker baskets in every way. They can be used for gifts, storage, and even grocery shopping.
Coffee Table Basket
There are many basket decor ideas for living rooms, but the most user-friendly has to be the coffee table basket. It offers neat organization on your coffee and side tables. 
People use them to house anything from objets d'art as a stylish centerpiece to keeping your TV remote and similar items neat and tidy.
Hanging Basket
A hanging basket is most often used for holding plants with trailing leaves. This is probably the most popular of all hanging basket ideas. 
It's especially helpful in homes where indoor plants are desired but space is limited. Ask your local garden center expert for some tips on how to arrange baskets on a wall for holding plants.
But there are all sorts of exciting basket wall decor ideas. Just be sure to avoid placing very heavy items in them unless they're very durable, like the ones from Amish Baskets. 
Shallow Basket
A shallow basket can be used all over the house, from the bedroom to the kitchen. Its primary purpose is to house small items that would otherwise leave the counters cluttered, like bunches of keys.
Vintage Basket
A vintage basket is usually an accent piece in the home, adding a touch of rustic flair to the interior decor. Most often, vintage baskets are wicker, but not necessarily so. If they're true vintage baskets, they're almost always made of some type of natural material, like wood.
Stair Basket
The staircase basket stores rain boots or other winter wear. Members of the household can then easily grab them from the stair storage basket on their way down the stairs to head into winter's icy chill. 
Console Table Basket
Does the console table in your entrance hall quickly descend into chaos, a catch-all for various things like mail or keys? This is quite a common problem, which is why the console table basket was born. 
Kitchen Counter/Cabinet Basket
Of course, no discussion on decorative baskets would be complete without mentioning kitchen counter baskets. 
While baskets in the living room and entranceway are usually used for collecting clutter, kitchen counter baskets fulfill a much deeper purpose. They're used for holding fresh produce like fruits and vegetables or fresh loaves of bread. 
Ideas for Filling Decorative Baskets
Decorative baskets can be used in any room of the home. You can store a wide variety of items in them, which makes them ideal for storage. Unlike storage bins or drawers, you can easily see what's inside and retrieve items or refill the baskets with ease.
You don't have to limit your imagination to the general uses of decorative baskets. Use them in any way that you'd like to. Your lifestyle, family size, and needs will largely dictate what you put in your decorative baskets. But here are some basket organization ideas to get you started:
Extra Pillows and Throw Blankets
Most of us never quite know where to store those extra pillows and throw blankets. We know that we need them, but where should we put them when closet space is limited? Store these in decorative baskets under or at the foot of the bed in the guest bedroom.
Laundry
There's no better vintage wooden basket than a vintage wicker laundry basket. And no, it doesn't have to be used for laundry. Use it to store garments that you don't use all the time, like seasonal clothes. 
Office Supplies
Baskets even make their presence known in the home office or study, usually as hanging file baskets. There's just no room in the house that can't do without a touch of basket charm.
Bathroom Essentials
Many bathrooms are small and just don't have the space for those bathroom essentials like extra toilet paper rolls, tissues, bathtime products, and the like. Use your decorative basket to store these necessities in a practical yet attractive way. 
Dining Room Table Centerpiece Accents
Are you looking for an eye-catching centerpiece for your dining room table? Fill a decorative basket with fresh (or dried, if you prefer) flowers and herbs. Or toss a few shiny baubles and bows made of bright red and green ribbon at Christmas time. The possibilities are endless. 
Personal Style Accent Pieces
Don't you wish that you could subtly share your interests and passions with your visitors? Get them all talking with a decorative basket filled with seashells, semi-precious stones, or anything else that speaks to your sense of style. Place it in the sitting room near a window, where natural light will highlight its contents.
Craft Supplies Storage Solutions
Who doesn't love crafting? The problem is that there are so many small bits and bobs to keep track of and store. A decorative basket is an ideal solution. Simply place all your sewing, knitting, or other crafting supplies in there. This is a great idea for your grandkids' smallest toys, or even crayons and markers.
Conclusion
With the right decorative basket, your home can be transformed in minutes, from an unorganized den of chaos to a haven of clutter-free elegance. 
All it takes is a little ingenuity and Amish Baskets. Get yours today. 
Did You Find Our Blog Helpful? Then Consider Checking: