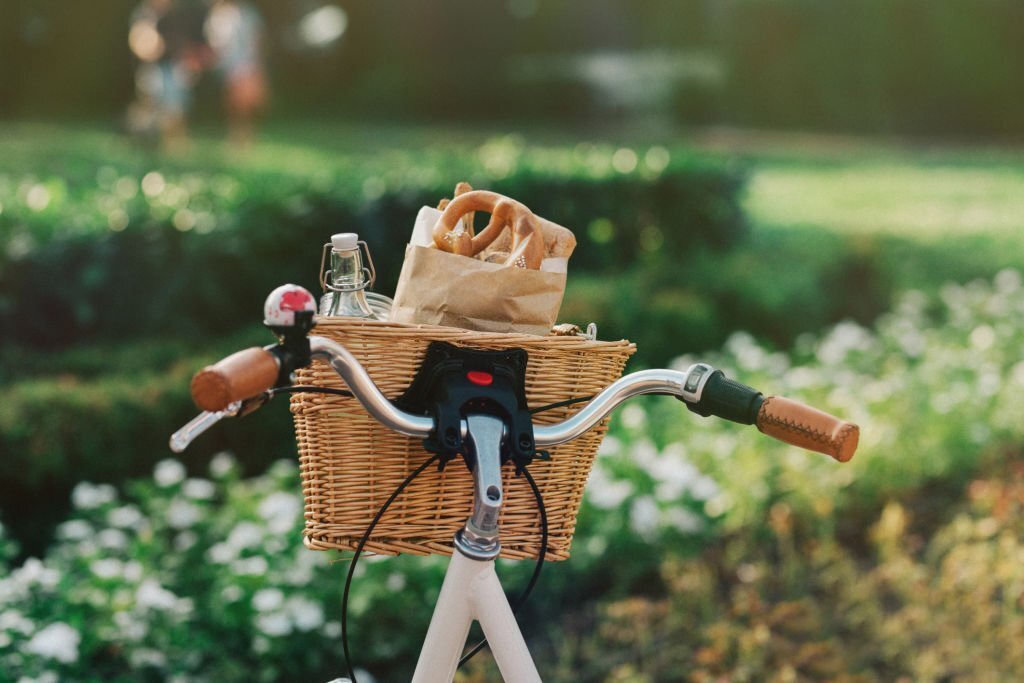 Best Bike Baskets
When shopping for the best bike baskets, how they enhance your life may not even occur to you. Yet they're an essential part of a sustainable lifestyle. 
Few people know that the Amish were advancing this move to eco-friendly living long before it became trendy. With their time-honored tradition of weaving wicker baskets for home and leisure, the Amish make it easy for you to live an eco-friendly life. And it can even give small businesses a surprise boost.
Want to know more? Read our review of the best bike baskets, what criteria to look out for, how to use them, and how to care for them. And you'll soon discover how they will change your life, for the better.  
What this article covers:
How the Best Bike Baskets Enhance Your Life
With the increase in environmental awareness about pollution from gas-driven vehicles, many have turned to cycling as an alternative mode of transportation. Cycling is not only great fun, but it's also great exercise. 
It's a low-impact activity that improves balance and strength. You'll get a healthy dose of fresh air, while you're out and about in nature. It's even good for your mental health.
But how will you transport your fresh produce from the farmer's market? Or your freshly baked loaf from the bakery? A bike basket, of course! It's more than just a bicycle accessory. Like the vintage picnic basket and rattan bread basket, it's a charming reminder of the simpler times of days gone by.
In our experience, we've found that a good quality bike basket is an investment in your quality of life. So, how do you know if your bike basket is of good quality and good for the environment? What should you be looking out for when selecting a basket for your bicycle?
Let's look at the top criteria to look for in the best bike baskets next. 
Criteria To Look For In The Best Bike Baskets
According to our research, these are the top 5 criteria to look for when hunting for the best bike baskets.
Materials
The strength of any item lies in the materials it's constructed from. So, one of the first criteria to watch for is what the baskets are made out of. 
You can get a bike basket made from several materials - wood, metal wire, even PVC and other plastics. But plastics are harmful to the environment, thanks to their polluting manufacturing process and the fact that they aren't biodegradable. 
Amish baskets are constructed of quality woven organic wood sides and hand-cut wooden bottoms. They're certainly gorgeous, but they weren't created for looks alone. These baskets are made for heavy use and are built to last.
Workmanship 
Good materials are important, but they mean nothing if the item isn't made well. That's why the next important factor is workmanship. We place people before profits and believe that quality craftsmanship will always win over cheap, mass-produced items. But sadly, the same can't be said of everyone.
Many manufacturers operate on a tight schedule, and this means that the manufacturing processes can be rushed. That's not ideal for the production of quality goods. Mass-produced items may be affordable, but that's usually because manufacturers cut corners to cut costs. 
Traditional woven baskets are generally of much higher quality, with superior workmanship. And let's be honest. No plastic or wire basket will ever have the appeal of a traditional wooden bike basket. An authentic wooden or wicker basket has a timeless appeal that everyone loves. 
Strength 
The next thing to check when selecting a bike basket is its strength. For that matter, strength is vital for any type of basket, as it has to hold up under the weight of whatever you put in there. The last thing you want is to be cycling home with grocery items in your basket when the bottom gives out!
While it's true that some plastics can be very strong, and the same can certainly be said for metal, a wooden basket has more grace under that pressure. It combines exceptional strength with natural beauty and will give you years of faithful service.
Durability
Durability is the next thing to consider. In other words, how long will the bike basket last? Will it stand the test of time, and resist wear and tear?
Synthetic materials may seem more sturdy, but they're often not as durable as they first appear. Metal wire is fairly durable, but can be prone to damage and corrosion. Thanks to the weaving process, a rattan wicker basket can be much stronger and more durable than many other materials.
Weight
The weight of the basket itself is another important consideration, as it affects the handling of your bike.  
Yes, synthetics can be lightweight, but it's the lightweight ones that are usually not that durable. Wood is strong and durable, but it can be a little heavy. The solution is a woven wicker basket with strength, durability, and natural style.
Amish Baskets - The Best Bike Baskets
So, what is a wicker basket, and what does this have to do with the Amish? 
The Amish have held to their ancestral traditions, resisting centuries of urbanization and modernization. And one of their best-loved traditions is traditional wicker basket weaving. As experts in the manufacture of woven goods, the Amish Baskets initiative is responsible for creating quality goods for the whole family.
Our friends in the Old Order Amish community make a range of versatile and attractive accessories for the home, including wicker storage baskets for shelves and other kitchen and laundry room accessories. 
Because the Amish don't believe in mechanization, they make all of these items by hand. With techniques passed down through the generations. And one of their most endearing products is the woven bike basket. 
The Original Amish Bike Basket
The wicker dog bike basket is a detachable front handlebar basket. It's designed to fulfill many needs, including taking a little pet along for the ride. However, the Amish bike basket can only carry the weight of a small dog (up to 10 lbs in weight). 
But it doesn't have to be used for this purpose. It's suitable for anyone who enjoys going cycling in the countryside and even for people who use a bicycle as their main mode of transport. That's because it's a multifunctional bike basket.
This product is ideal for everything from carrying a little poodle to transporting fruits and vegetables from your local farmers' market. You can use it for whatever you want - the possibilities are endless! But that's not the only benefit of this multifunctional basket. It's user-friendly, too.
Why It's So User-Friendly
The Amish Bike Basket is equipped with special "Quick-Release" straps, constructed from genuine leather. They're used to secure the bike basket to your bike's handlebars. And they can be attached, or detached, very easily in just a few seconds.
These straps turn your bike basket into the ultimate multi-purpose accessory. The innovative quick-release mode turns the bike basket into a versatile carry basket. You can also attach it to a walker or wheelchair. 
This multi-use feature is what makes the Amish Bike Basket one of the most user-friendly bike baskets  available today, 
Ideas for Using the Best Bike Basket from Amish Baskets
The Amish Bike Basket doesn't just offer individuals the chance to transport their little pet, shopping, or personal effects to and from home. It's an excellent investment for the small business owner, too! 
As small business owners look for ways to make eco-friendly choices in their day-to-day business activities, the humble bike basket is the solution. Let's explain.
Our bike basket can hold up to 10 lbs. in weight, is durable, and is sustainably produced. It's also the most creative way that you can incorporate an environmentally-friendly approach into your small or home-run business. And the following accessories make it even better.
Best Bike Basket Liners 
The Amish Bike Basket is available in a range of options, including contrasting trim or a bright and cheerful fabric liner. Liners are sold separately, for your convenience. 
You can choose from a range of four classic colors - wine red, navy blue, hunter's green, and cream. Get all four, and you can customize your bike basket as and when you wish. Or choose a bike basket liner in a color that matches your business logo or staff uniforms. 
It's that wonderful country-style touch that your customers will love.
Best Bike Basket Nameplates
If you like the idea of personalizing your bike basket even further, we've got that covered, too. There's an added option of having a brass plate engraved with your name (or whatever you prefer) and attached to the front of your bike basket.
This opens up all sorts of marketing possibilities - just have the brass plate engraved with your company's name! 
If you own a bike rental business, offer the option of a detachable bike basket/carry basket. And have the nameplate engraved with your bike rental business name and contact number. Anyone who sees it will know how to get in touch with you.
Or perhaps you own a health food store that delivers? For smaller deliveries, your delivery people can use bicycles with the Amish Bike Basket. Add your store's name and contact number on the bike basket's optional nameplate. 
How To Care For Your Bike Basket 
There's no need to stress about how to clean a wicker basket, either.  Just give it a brush down, or run a mini vac over it, every two to three weeks. 
Our basket liners are machine washable and dryable, and they don't even need ironing to look their best. Doing so will prevent dust and debris from getting trapped between the woven rattan strips. So your bike basket will always look its best.
Our satisfied customer reviews are full of compliments about how our baskets are so easy to use and care for. So don't delay your purchase of this multi-purpose authentic Amish product. 
Get your Amish bike basket and value-added accessories today. Make the switch to sustainable living. And allow the best bike basket on the market to add value to your life.
Conclusion
Bike baskets are making a big comeback. But the best bike baskets are the kind that don't just transport a pet or your groceries, but also protect the planet.  
Our bike baskets are sustainably produced from natural materials, without any polluting manufacturing processes. They are beautiful but durable, as durable as the Amish people's customs and traditions. So don't miss out on the chance to be a part of this sustainable living trend. 
Did You Find Our Blog Helpful? Then Consider Checking: