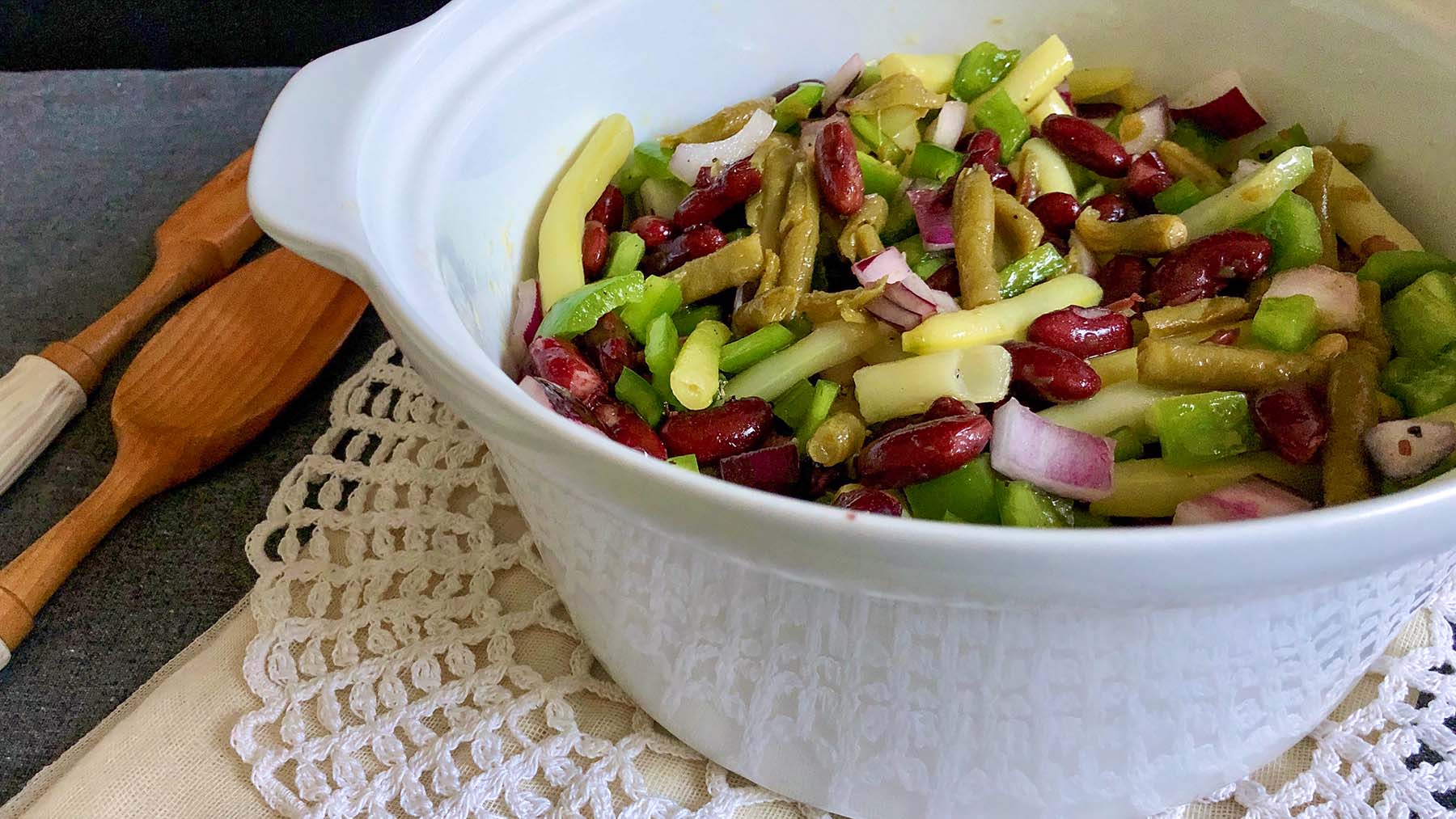 Amish Three Bean Salad
Looking for a quick and delicious salad recipe perfect for summer, picnics, and potlucks? This simple Amish Three Bean Salad is light, and refreshing, and will take less than 10 minutes to prepare!
A great addition to any picnic spread or for a quick on-the-go meal with easy-to-find pantry ingredients. Who doesn't love a simple bean salad? This recipe is also vegetarian and vegan-friendly, the perfect dish for everyone!
What is Amish Three Bean Salad?
Amish Three Bean Salad is a traditional Amish salad consisting of three different beans, kidney, green, and wax beans. In addition to the three beans, we add red onion and green pepper for freshness and crunch.
This Amish bean salad is dressed with vinegar, oil, and sugar making for a delicious sweet-and-sour blend. It is protein-rich and budget friendly making for a quick and easy-to-put-together salad perfect for any occasion.
Feel free to mix and add your favorite ingredients or different beans. Garbanzo and cannellini beans also go great with this combination.
How do you make Amish Three Bean Salad?
Amish Three Bean Salad is easily prepared within minutes. Just combine beans, onion, and pepper with dressing and let sit overnight before serving. Keep refrigerated for 3-5 days and enjoy with a myriad of main and side dishes.
If you love easy picnic salads like this one, we suggest trying Amish Broccoli Cauliflower and Amish Saurkraut Salad. We also love serving this dish with German Amish Potato Salad. Try it out now!
Love picnics just as much as we do?
If you love picnics as much as we do, we suggest taking yours to the next level with the perfect hand-woven vintage picnic basket.
Perfect for large gatherings or any outdoor event, our Extra-Large Picnic Basket will help feed the entire team and can easily hold all of your favorite picnic recipes. Check it out now