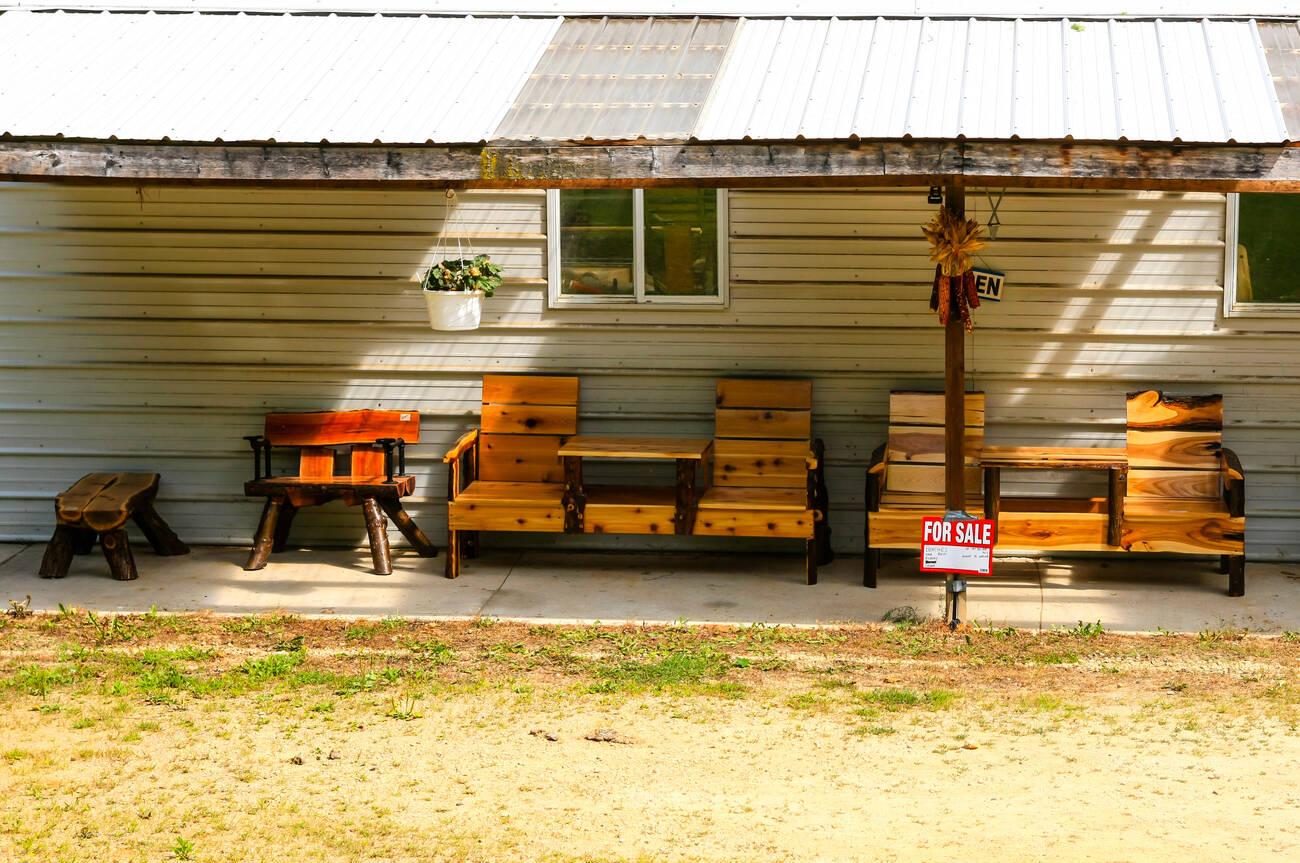 Amish Woodworking Techniques
Have you ever wondered what makes Amish furniture so durable and sought-after?
Amish woodworking techniques are based on generations of serious craftsmanship, which shines through in every piece of furniture they produce.
No wonder their wood furniture has become one of the most popular ways the Amish people make money.
If you aren't lucky enough to own an authentic piece, we are here to tell you how to replicate authentic Amish craftsmanship.
In the process, you will also learn how to spot authentic Amish wood pieces from mass-produced furniture.
What this article covers:
Amish Craftsmanship
Amish craftsmanship has a solid reputation, and the quality of their work can be observed in the furniture, decorative baskets, and wooden bread boxes they make.
In fact, Amish craftsmanship is so revered that some of their work is on display at the Smithsonian Museum.
Their craftsmanship is characterized by hand-made pieces that are made one at a time. 
The methods, tools, and practices are handed down from earlier generations, and children start honing their craft at a very young age.
For the Amish, craftsmanship is tied to their heritage and way of life, which allows them to produce furniture and other items of the highest quality.
What Are Some Amish Furniture-Making Secrets? 
Use Real Wood
The Amish people don't compromise on quality, and this can be seen in the type of wood they use. They only use solid, real wood. They also only use wood that is undamaged.
The Amish stick to locally-sourced wood and usually opt for oak, cherry, or maple variations.
Work By Hand
The Amish believe in doing nearly everything by hand. Their woodwork stands in contrast to mass-produced furniture pieces, and their methods include repetitive processes that are conducted over a long period of time to ensure that the wood furniture is in perfect condition.
Sustainability
The Amish focus on sustainability. They use local wood and handmade tools, and their furniture has been passed down through many generations.
Their production leaves a small footprint and creates furniture pieces that withstand the test of time, all without involving the costs associated with imported materials.
Do the Amish Use Nails?
One of the most unique aspects of Amish woodworking is that they don't like to use nails.
In fact, the joinery methods used for their furniture are one of the most notable aspects of Amish furniture.
They use dovetails, rabbets, and mortise-and-tenon joinery reinforced with glue to provide a seamless and fastener-free look.
The smooth finish provided by these methods is one of the biggest reasons Amish wood furniture has become such an inherent contributor to the Amish economy and why Amish woodworkers are among the richest Amish people. 
Amish Furniture Styles
There are many different styles that Amish wooden furniture can take, and the pieces vary from Amish farms and houses to Amish villages.
With slight modifications to meet the needs of contemporary society, long-standing traditions undoubtedly have an impact on the furniture. In fact, such trends are also observed in how the Amish buy land.
The Amish people have opted to use credit, loans, and Amish bank accounts to fund certain aspects of their lifestyle.
This is also observed in other items they produce, where more traditional vintage sewing baskets have recently included more custom elements, such as engraved brass plates.
More recently, the Amish people have dabbled in modern and midcentury pieces with noticeable geometric shapes and curves.
The most common styles are shaker and mission-style furniture pieces. The shaker style is characterized by light wood staining, wooden knobs, and tapered legs.
The mission style features darker stains with straight lines, angles, and stable legs.
What Tools Do the Amish Use to Build Furniture?
The Amish are known for being unencumbered by modern technology and tools. And Amish work, especially when it comes to carpentry, is no different.
These communities don't rely on the same types of tools as modern woodworkers. Hand tools are very common, and the Amish use a variety of saws, hammers, and chisels in their woodworking practice.
Similarly, hand tools are very common in Amish farming methods. The absence of modern power tools can also be observed in how the Amish mow their grass.
But it should be noted that they also use pneumatic tools for woodwork.
These tools run on compressed air and include various sanders and buffers that give their woodwork its beautiful finish.
Conclusion
By now, you should be very tempted to get your hands on an Amish wooden furniture piece. You may even be tempted to take a lesson from Amish craftsmanship and produce a piece yourself. 
Not only does Amish woodwork reflect hours of painstaking craftsmanship and generations of work, but it can also be the perfect high-quality furniture addition to your home. 
As a bonus, you'll be supporting a great community, and you'll have a unique item with a story to tell. 
Did You Find Our Blog Helpful? Then Consider Checking: