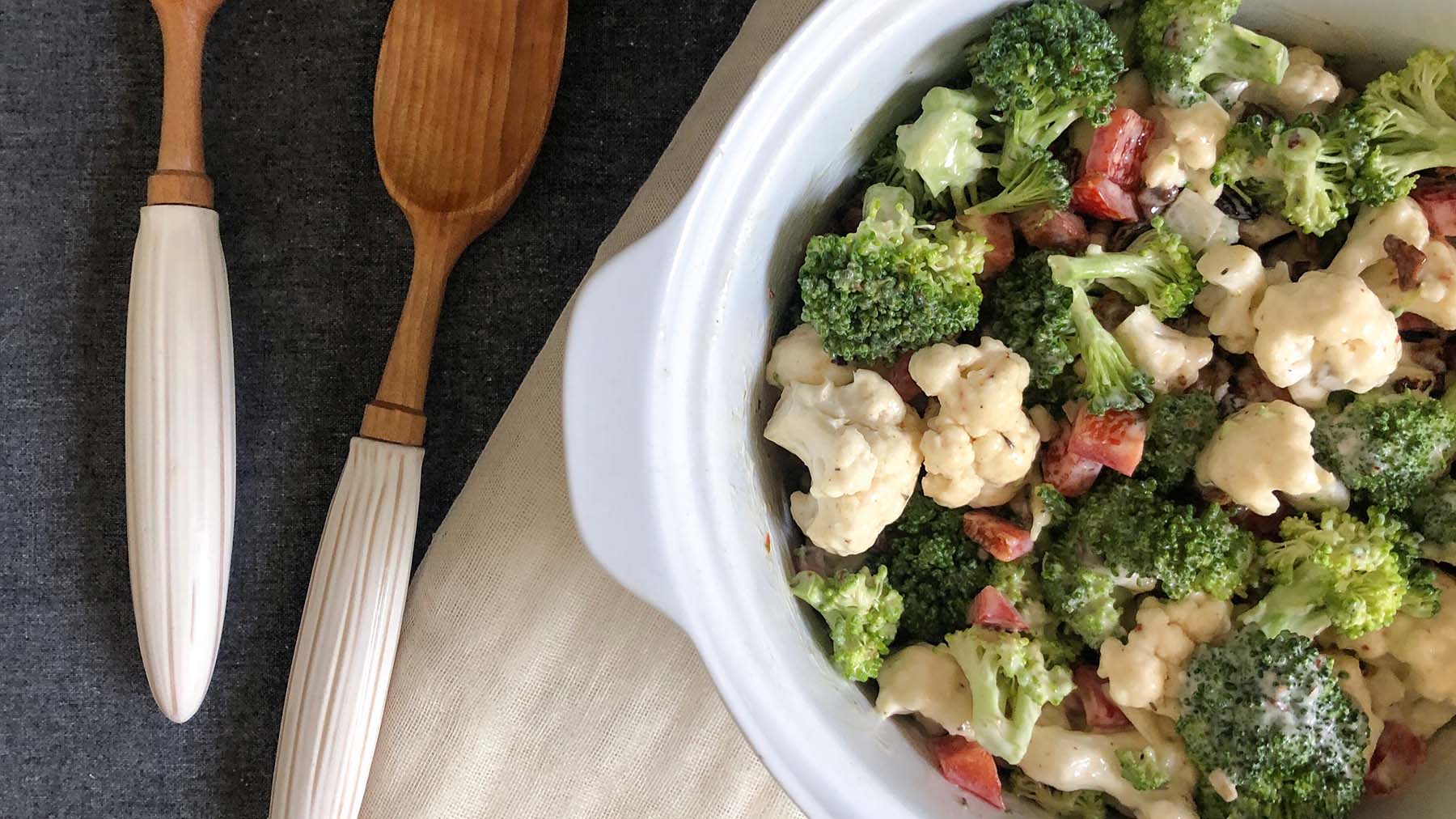 Keto Amish Broccoli Salad
Looking for the ultimate keto salad that is both low-carb and delicious? Keto Amish Broccoli Cauliflower salad is a healthy keto-friendly salad that is both low-carb and super satisfying. You won't miss anything with this simple go-to keto salad recipe.

This salad requires very little preparation and can be served in less than 20 minutes. A perfect addition to any picnic or family gathering, we guarantee this will be a hit!
What is Keto Amish Broccoli Salad and how is it different than traditional Amish Broccoli Salad?
This Amish broccoli salad keto version is a vegetable salad with broccoli, cauliflower, red bell pepper, and bacon mixed with a creamy sugar-free lemon mayo dressing seasoned with thyme and garlic.

Typically, Amish Broccoli Cauliflower contains sugar, sunflower seeds, and raisins. Many may prefer this keto version if they do not like raisins or sunflower seeds.
What to serve with Keto Amish Broccoli Salad?
If you like Broccoli Cauliflower salad, try our Amish Broccoli Raisin Salad or the non-keto version of this recipe, Amish Broccoli Cauliflower Salad. Keto Amish Broccoli Salad would also complement our Amish Cucumber Salad or Amish Pea Salad. Try mixing it up!
Looking for a perfect picnic accessory?
To make your next picnic extra special, we recommend checking our handcrafted Amish picnic baskets. Our Large Family Picnic Basket is great for large picnics where you may have to carry loads of food.
All our baskets are handcrafted with lots of love and care by real Amish families. Made to last for many picnics to come!