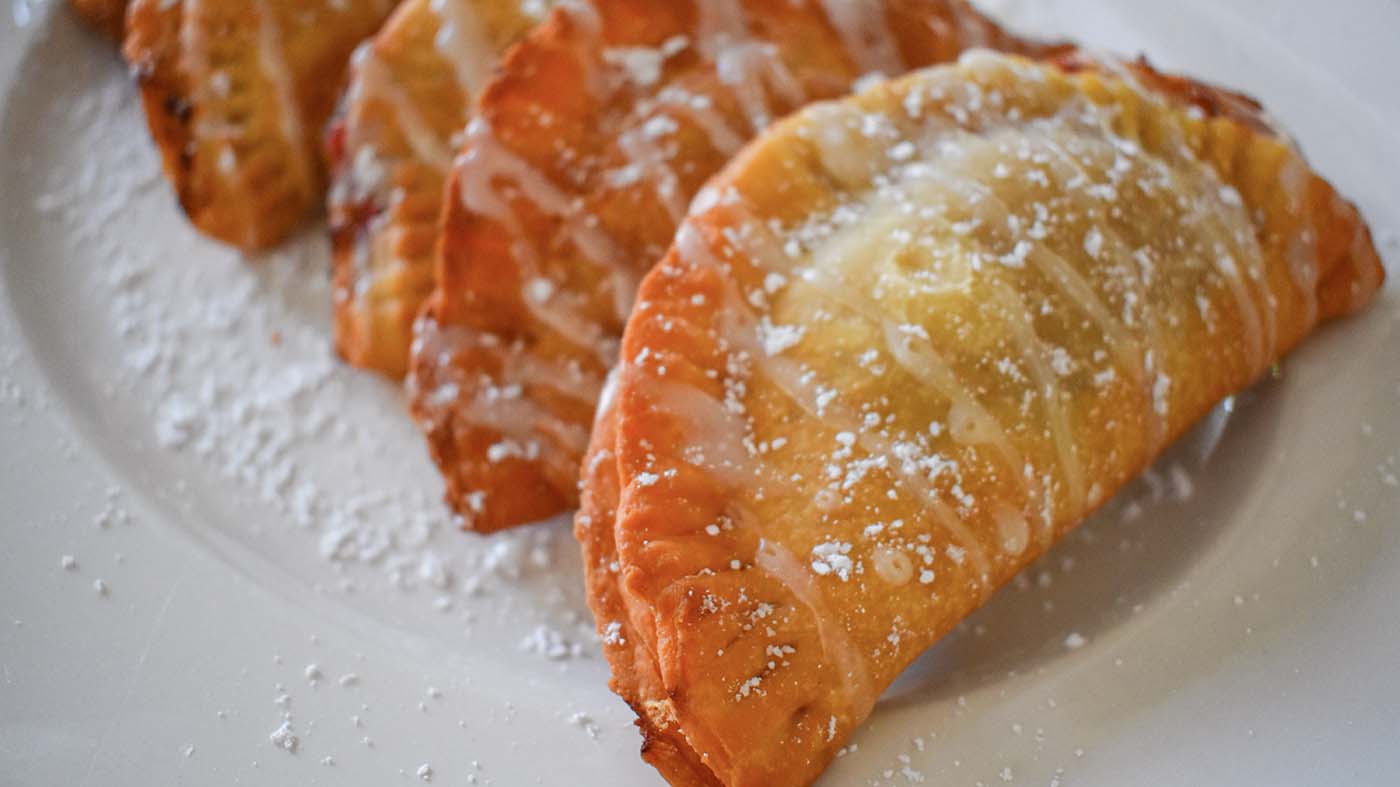 Amish Fried Pies
Amish Fried Pies are a perfect combination of flakey pastry tough and delicious pie filling. These handheld Amish fruit pies are moon shaped fried pies that can be customised to your liking. Fill them with your favourite pie filling like apple or strawberry rhubarb or opt for a store bought pie filling.
These Amish hand pies are finished with a delicious sugar glaze which makes these pies absolutely undeniably delicious. Great for any occasion or quick sweet snack on the go.
What are the different variations of Amish Fried Pies?
Amish Fried Pies are so versatile and can be made with different pie fillings like apple or strawberry rhubarb. We always recommend making your own pie fillings but you can also opt for a simpler store bought pie filling too. Amish fried pies are similar to turnovers however instead of using puff pastry they use a flakey homemade pie crust.
Fry or Bake Amish Fried Pies
Amish Fried Pies are obviously fried, however you can also bake these pies for a healthier version using less oil. We recommend using a fryer for Amish fry pies to keep the temperature consistent, but you can also simply fry these pies on the stove top making sure the oil temperature stays between 350-375°.
To bake Amish Fried Pies, preheat the oven to 425°. Arrange the Amish hand pies on a greased cookie sheet with a small slit in the crust, and bake for 20 minutes until browned.
If you love Amish Fry Pies…
If you love this Amish fry pie recipe, you will also love these classic Amish pie recipes for Amish Strawberry Rhubarb Pie and Amish Apple Pie. You can also use the pie filling recipe from these to fill your mini Amish fruit pies.
For more classic Amish Pie recipe inspiration, we recommend trying Amish Sugar Cream Pie and Amish Chocolate Pie.
Looking for the ultimate pie carrier?
If you are looking for the perfect way to securely carry your pies and other goodies, look no further. This hand woven Amish Dual Pie & Picnic Basket Carrier basket allows you to conveniently keep your homemade creations secure while you transport them anywhere, from potlucks to picnics. With sturdy leather straps and wooden interior shelf, this is the perfect addition to any picnic or potluck spread. Handcrafted by Old-Order Amish families in the Heartland of the USA.