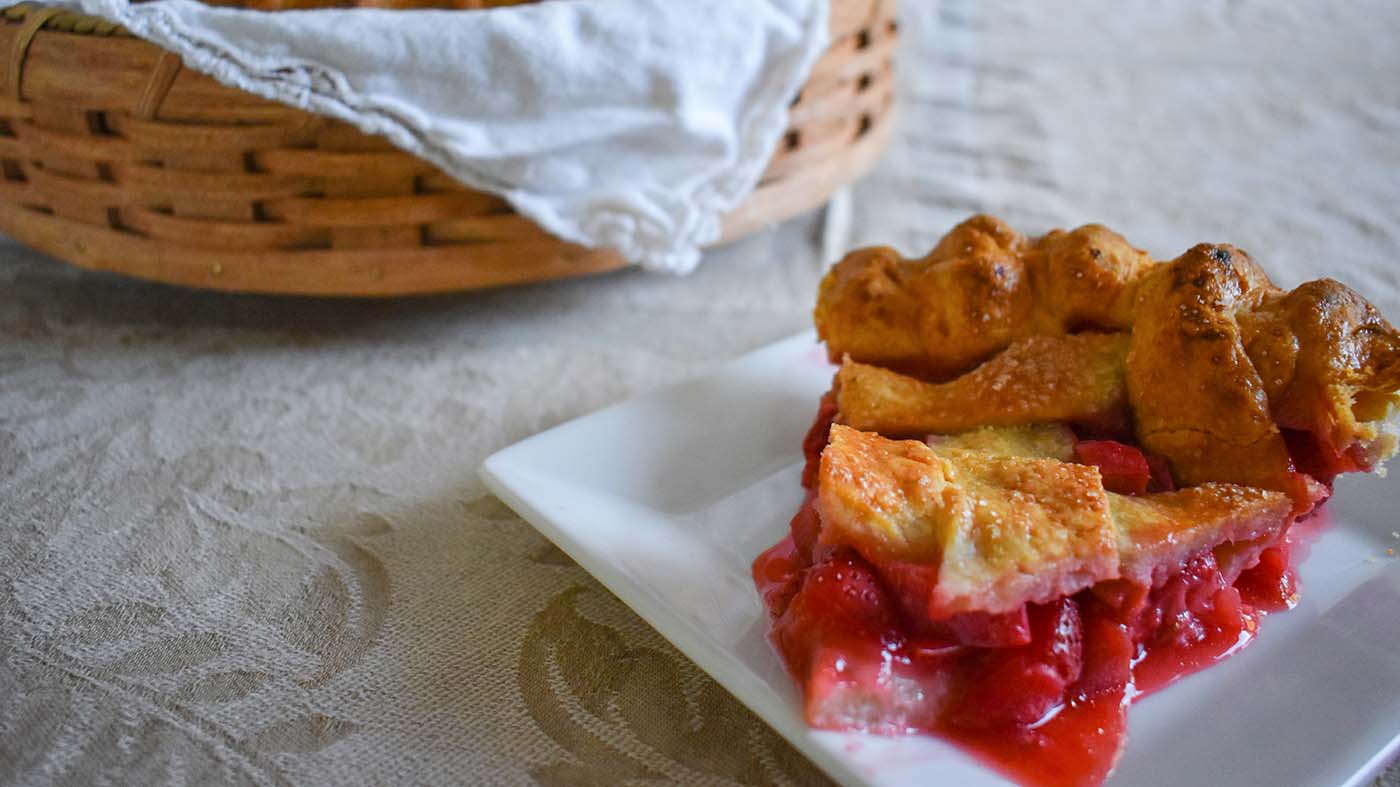 Amish Strawberry Rhubarb Pie
This simple and authentic Amish Strawberry Rhubarb Pie is a wonderful spring and summer recipe that is bound to leave a lasting impression. It is perfectly sweet and tart and will be gone in a matter of moments. With minimal ingredients and easy instructions, this is the best Amish Strawberry Rhubarb Pie Recipe you can find!
Remember to refrigerate your pie dough for at least 2 hours or overnight before adding filling. This will keep your pie from being too moist and soggy. We recommend using a homemade pie crust such as this Amish Pie Crust Recipe but you can also use a store bought pie crust. Serve this pie slightly cooled with a dollop of ice cream or whipped cream. You can also use this strawberry rhubarb pie filling for mini handheld Amish Fried Pies.
What are other variations of Amish Strawberry Rhubarb Pie?
If you have less time, you can replace the top layer lattice design with a simpler crumb-topping. Cut 12 tbsp. unsalted butter with 1 cup sugar and 1 ½ cup flour to make crumbly topping.
If you love this Amish Strawberry Rhubarb Pie recipe, you will also enjoy this classic Amish Pumpkin Pie Recipe and Amish Peanut Butter Pie Recipe. Try them out and let us know what you think!
Looking for additional Amish home inspiration?
If you are looking for the best handmade woven crochet and knitting travel tote bag, this Amish Crochet Knitting Travel Tote Bag is the perfect find. This unique knitting storage and organizer bag comes complete with four Tangle-Free Yarn Organizing Grommets built into the genuine leather handle to allow for different yarns to be pulled through and eliminate snags and tangles as you knit or crochet your projects. This gorgeous wicker knitting tote bag is uniquely Amish woven from flexible wicker, so you can conveniently store, organize, and carry your yarn and current projects with you everywhere you travel.