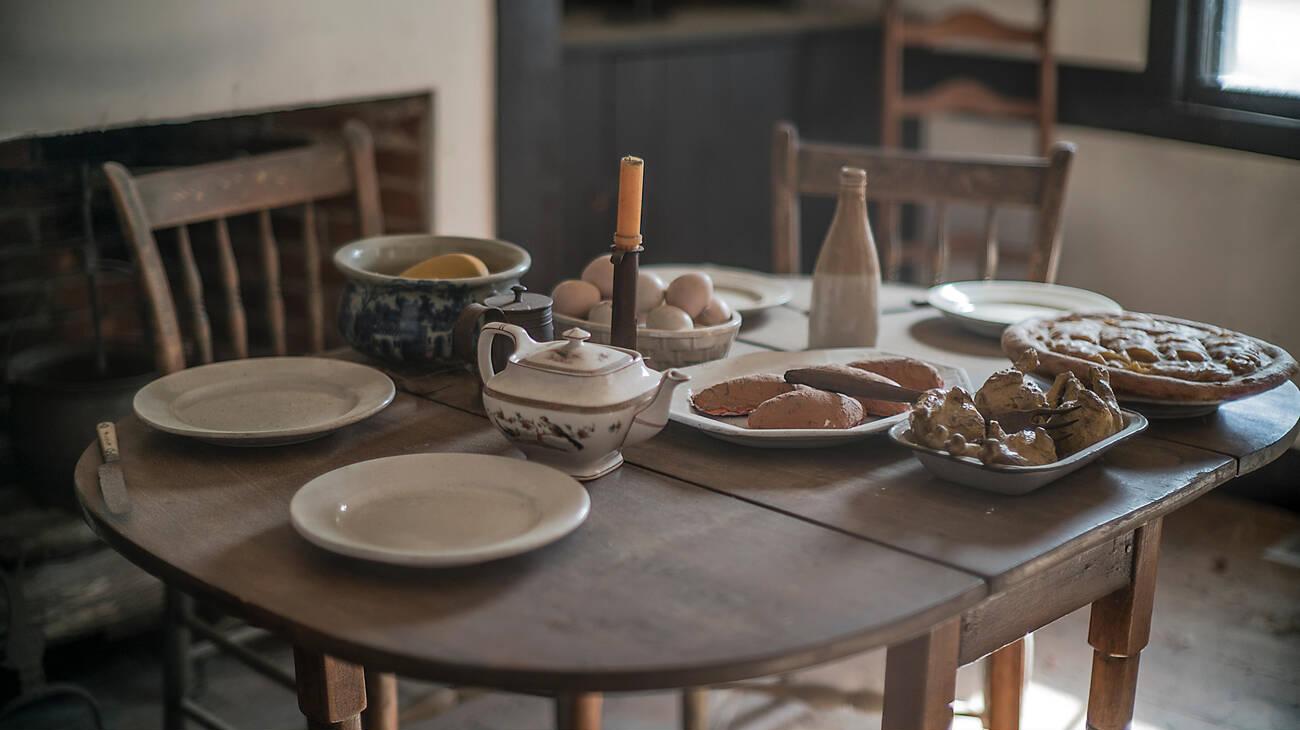 Amish Wedding Dinner
Amish weddings differ from those in western culture in many ways, but certain things stay the same regardless of religion or culture. 
In the Amish community, just like everywhere else in the world, weddings are a time for celebration and bonding, and strengthening Amish relationships.
Amish wedding dinners are always traditional, home-cooked meals served by the bride and groom's families. 
Amish wedding season wouldn't be complete without this time-honored practice that many young Amish people look forward to.
Home-cooked meals and baking are a way of life that sustains communities in the Amish culture.
Not only do they sell well-crafted under-bed storage baskets, but many Amish families also sell food westerners love because of the authenticity and tradition. 
What this article covers:
What Is an Amish Wedding Dinner?
The Amish wedding dinner is a special occasion, and food on the day is one of the crucial aspects of a good celebration. 
On the day of the wedding, the eating portion of the day involves two big meals, supper, and dinner with enough food to leave their bread boxes overflowing. 
Amish wedding dinners are quite the celebration, guest numbers reach 200-400 people on regular occasions as Amish people invite their communities over to celebrate the newlyweds. 
The wedding dinner tradition is centuries-old and allows for socializing and fellowship in the community. Every wedding in the Amish culture is a time to celebrate and bond as a community. 
Amish Wedding Dishes
Roast Chicken and Stuffing
All Amish wedding food and ingredients are grown and cooked at the bride's home, with no store-bought rotisserie chicken in sight. 
The main meal of the day will be a roast or chicken meal of some kind, some couples opt for a different type of meat such as lamb or beef but with chicken being popular livestock in many communities it is the food of choice. 
Along with the roast chicken, there are usually a wide variety of sides from all sorts of vegetables, noodles, gravy, and potatoes. 
Creamed Celery
Creamed celery is a traditional Amish wedding dish, so much so that days before a wedding, loads of celery are harvested at the bride's family home. When Amish families anticipate a wedding, they grow lots of celery to prepare. 
You're almost guaranteed to find creamed celery at an Amish wedding, as it's a dish passed down from generation to generation.
The celery isn't only one of the staple dishes of the wedding, it's also sometimes used as decoration in place of flowers. 
Pies and Donuts
Dessert in any celebration is the best part of the meal, and it's no different in Amish traditions, with pies, donuts, sweets, and rolls everyone looks forward to when dessert comes around the table. 
A family in the community will usually have special recipes and traditions for when they make pies, the pies made for the wedding celebration are always special as the family makes them.
Donuts are a wedding favorite, and sweets are common as well. The newlywed couple will get decorative baskets from the shelves, full of sweets to serve guests as they go around greeting everyone.
One can tell the newly married Amish woman apart by her white bonnet and the man by his black coat as they make their way around socializing with guests and handing out desserts. 
Conclusion
Learning about Amish wedding customs and traditions is quite the experience and attending an Amish wedding is something many people hope to experience. 
Even though the Amish wedding ceremony and traditions are different from western culture, there are many similarities, and some might argue the food is just as good if not better. 
The Amish wedding dinner is a tradition passed down through generations and it will continue to carry on into the future. 
As the main socializing and celebrating part of the wedding ceremony, it's a part of the day that many look forward to and many think of as the highlight of the day. 
Let's not forget that, while delicious and brimming with tradition and ceremony, the main purpose of an Amish wedding dinner is fellowship, something the Amish hold very dear, together with their strong sense of family.
Did You Find Our Blog Helpful? Then Consider Checking: